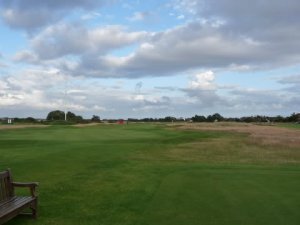 Preview Royal Lytham & St Annes
Billed as golf's oldest championship, the Open Championship will descend upon Royal Lytham & St Annes next week for the 11th time. Here to preview the course is Paul Eales, a former European Tour player and current analyst for BBC Radio 5 Live and Sky Sports. And since he used to be the assistant golf professional at Royal Lytham & St Annes, you could consider him a resident expert. Enjoy!
Overview
The wet spring has left the rough deep, lush and heavy. The greens are smaller than the players would be used to and most of the greens are like upturned saucers where the ball will run or spin off. Your score will normally be made over the first 13 holes, then you hang on. Four of the final five holes, all par 4s, demand nothing other than your best shots and five fours to finish will probably move forward on the field.
The prevailing wind is down off of the right for eight of the front nine holes. Only the 4th plays back toward the clubhouse. Lytham's bunkers are its main feature and provide its main defence other than the wind. Very deep, well placed and riveting bunker faces leave the player only one option - just get it out! The tee shot at 18 has to avoid many of the fairway bunkers and is played towards the magnificent clubhouse than sits right on the back edge of the green.
Hole by Hole
Hole 1 - Par 3, 205 Yards: A great par-3 from a sheltered tee, the player must take note of the wind direction before walking to the tee.


Hole 2 - Par 4, 481 Yards: A new tee has added length to the hole and a fairway bunker in the middle of the fairway now has to be avoided.


Hole 3 - Par 4, 478 Yards: Toughest hole on the front 9. It's long with a narrow and a difficult green to find. We will see more 5s than 3s on this par 4.


Hole 4 - Par 4, 392 yards: The only hole on the front side played back toward the clubhouse. It plays as a slight dog leg right to left, but it should not cause too many problems.


Hole 5 - Par 3, 219 Yards: A long par-3 with deep bunkers eating into the green.


Hole 6 - Par 4, 492 yards: The hole usually plays as a par-5 but it's a par-4 for The Open. It plays as a dog leg right to left to a well guarded green designed for short irons and not long irons or hybrids.


Hole 7: Par 5, 592 Yards: A new green has been built to lengthen the hole. An anonymous par-5.


Hole 8 - Par 4, 416 Yards: The 8th hole features an elevated tee with the railway and out of bounds all the way down the right. A deep bunker and sandhill to the left demand a good tee shot. The second shot is played to an elevated green.


Hole 9 - Par 3, 165 Yards: Slight downhill par-3 at the far end of the course. A great looking hole that should produce lots of 2s.


Hole 10 - Par 4, 387 Yards: A new tee has ruined the hole. Players will struggle to keep the ball on the fairway that slopes right to left. From the original tee players would be tempted to drive this short par-4.


Hole 11 - Par 5, 598 Yards: A new tee has added length to this hole. A huge mound that hid a view of the fairway has been removed. Now it's a non discript par-5.


Hole 12 - Par 3, 198 Yards: One of the best par 3s in championship golf. A green that is elevated and well protected by bunkers.


Hole 13 - Par 4, 355 Yards: A short par-4 that with a favourable wind can be driven. Normally will play a long iron and then a wedge.


Hole 14 - Par 4, 444 Yards: Now the tough run for home. A dead straight, long par-4 where the green runs away from the player toward the back.


Hole 15 - Par 4, 462 Yards: It's long with bunkers right and left. It's almost impossible to find the green if a player is not playing his second shot from the fairway.


Hole 16 - Par 4, 336 Yards: A short well bunkered par-4. Could tempt the longer hitters to have a go!


Hole 17 - Par 4, 453 Yards: A fairway that narrows the further you go. A dog leg right to left to a semi-blind green.


Hole 18 - Par 4, 413 Yards: A fantastic closing hole where the fairway has to be found off the tee. The tee shot must avoid many of the fairway bunkers and is played towards the magnificent clubhouse than sits right on the back edge of the green.
If you know anything about Royal Lytham & St Annes, feel free to share your knowledge or opinion!
This was written by Paul Eales, and the opinions are 100% his and do not reflect those of oobgolf in anyway. Enjoy! I'm sure he's ready for your feedback.
Image via photobucket,
wpgkeith
Have an idea for a guest column? Send it here
[ comments ]
Ol Dog says:
I'll keep these descriptions at my side while I watch The Open. It's always a great show and the course changes sound like they might humble even the greats of golf.
7/17/12
TheAlis says:
I played it a few times. The last time the rough was literally knee deep in places.That will be its main defence.
7/17/12
ACF says:
Chris says
Like the first comment I think that it will be extremely useful to keep the descriptions by my side while watching together with a layout of the course. Thanks Paul.
7/18/12
Andy Crosson says:
Excellent overview with insight not available via oficial channels. I have printed off and will use at the Open Saturday and Sunday. Thaks a lot!
7/18/12
akkipanwar says:
nice post
10/10/18
akkipanwar says:
Hello friends if you are forget our window10 password and there are no more option are available
where are saved passwords in microsoft edge
if you are conform to go the tool bar and see the setting of the window10.
10/11/18
laiden575 says:
I need to realize that put where Science and Spirituality Become One. That article have the appropriate response of my inquiry and other individuals may have same inquiry as a primary concern. This article have exceptionally fascinating discussion to be perused and it meet the unavoidable issues facing everyone. Well! I think
online assignment writing websites
and great data identified with other topics and issues.
11/22/18
[ post comment ]