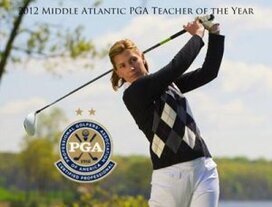 No Spin Zone
By
Erika Larkin
on 5/2/13
I have taught many former recreational baseball and softball players and have found some common body language that carries over to golf and causes some problems particularly for iron shots off of tight lies... The dreaded spin back on the right foot (for a righty). This one move typically makes the golfer's weight stay back too long, causes a flat swing and affects the timing of the body turn through impact. Remember we are hitting at the ground not in the air so we have to maintain our golf posture and this spin move causes the spine to get too vertical leading to fat, thin, topped pushed or pulled shots. So enter the no-spin-zone!
If you finish your swing and you are still balancing yourself on the ball of your right foot, follow these tips and drill recommendations:
As you start your downswing try to roll off your right foot so that your ankle rolls inward and then onto the toe of your shoe. Put a club shaft or small alignment rod under your right foot the long ways so it runs under the length of your shoe. swing and feel the rocking and rolling motion as your foot tilts. If you try to spin or "squash the bug" you will slip and possibly loose your balance on the rod so be careful.


Watch your head. Let it slide a little more left than usual during the downswing. If you try to keep it back it will only encourage poor footwork. Ideally we want the golfer's head to in line with the ball at impact for an iron shot.


Try a step through drill swing: make your normal swing but try to walk through by taking a step with your right foot past your left straight to the target ( not sideways) to help exaggerate a more complete weight shift and letting your head stay centered or even a little left through impact.


Double check your posture: former ball-players usually want to stand more upright. So back up and bend over and stay there as long as possible through the swing.
Thanks for reading and good luck practicing.
Erika Larkin is the Director of Instruction at Larkin Golf Learning Community at Stonewall Golf Club in Gainesville, Virigina. She was named the 2012 Middle Atlantic PGA "Teacher of the Year" and the 2011 "Top Golf Pro" by Washingtonian Magazine... and she's oobgolf's newest columnist. She will be writing on a variety of topics including instruction, so if you have a question for her or an idea for a column, email her at ErikaLarkin@pga.com. Enjoy!
[ comments ]
Wrightws says:
I must say that golf is such a different and peaceful game with such an enjoyment that only few can have the pleasure of. You have get
bestessays essay writing
services for the students to complete their thesis work. The techniques of kicking the balls that you have mentioned are so great keep sharing it with us like that.
8/26/19
JasonMills says:
Golf is all time my favorite game but I hardly got a chance to play it due to a lot of business. It is weird for me to read about no spin zone. Here is
useful reading
for getting essay help online. I think these are the most luxurious areas which are present in this venue for supreme golf club members.
11/19/19
YoungHope says:
Challenges are what make life interesting and overcome them which are what make life sense. Let me share
geometry dash
5/28/20
paybyphonecasinouk says:
There are completely heaps of favorable circumstances to utilizing a pay by phone casino, be that as it may, the greatest of them is without a doubt comfort. Simply envision that you're all over town, maybe on a transport or perhaps sitting in the staff room on your mid-day break. For more info visit
paybyphonecasino.uk
.
7/6/20
[ post comment ]