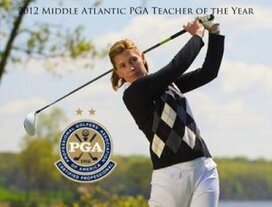 Mapping Wedges
By
Erika Larkin
on 7/10/13
It amazes me how often I ask a student "how far does your half-Sand Wedge go?", and they have no idea or at best, they have a rough range that spans 20 yards. We all hear how important it is to be good at 100 yards and in as a golfer but most amateurs do not take the time to practice on the short game enough (putting and chipping) let alone their approach game. But for as many people as there are that are missing greens in regulation it would be pretty helpful to have a solid feel for your approach shots and in turn this would help lower scores.
So with that said, one of the most valuable lessons I ever give students is taking them through a "wedge mapping". It is very helpful to know how far you can hit your wedges with different size swings and can really help people gain confidence with their approach shots and club selection 100 yards and in.
I would recommend you take the time to do this for yourself every once in a while to double check your distances and know exactly what your CARRY distances are. Here is how to do it:
You need 40-100 yards of space, some towels or cones or rods, a friend to watch where the ball is landing, 10 balls and your all of your wedges.


Next, determine a starting spot in the rough/fairway/range and then walk out distances in about 10 yard increments from 20-100 yards and mark them with towels/cones etc.


Start by hitting 10 balls with your SW using a quarter swing. Have your friend mark down how far the ball carried in the air on average.


Do this again with your other wedges and note the differences.


Go through the process and write down your distances with half swings, three quarter swings and full swings. You could do sets from the fairway/rough or using different ball positions if you want to really get specific. Remember, if the ball is going to be landing on the green in a real situation you need to allow for approx 5 yards of roll for a middle ball position or 10 yards of roll with a back ball position.


Review your results and make out a card that you can keep with you or memorize that charts all of your distances with all different size swings with your wedges. Now you have a map for success for your approach shots!
Have fun with this very worthwhile activity ... I KNOW this will help your game!
Erika Larkin is the Director of Instruction at Larkin Golf Learning Community, at Stonewall Golf Club in Gainesville, Virginia. She was named the 2012 Middle Atlantic PGA "Teacher of the Year" and the 2011 "Top Golf Pro" by Washingtonian Magazine and she's ClubSG's newest columnist! She writes on a variety of topics including instruction, so if you have a question for her or an idea for a column, email her at ErikaLarkin@pga.com. Enjoy!
[ comments ]
niall420 says:
Well, First of all, i would like to thanks for such a great Golf learn tips this a different topic I, and I little bit know about golf, as Golf not at all like most ball games, can't and does not use an institutionalized playing zone,
Private Limited Company Registration
and adapting to the shifted territories experienced on various courses is a key piece of the amusement.
3/26/18
gmax024 says:
once i had an oppurtunity tomvisit a golf ground. I WANTED TO SWING THAT bat like those professionals. i was amused with the greenery over there.
Limited Liability Registration In India
3/29/18
shravi12 says:
It is really very nice to do fun and enjoy and the game is
sudoku play online
free of cost without any error and issue.
5/24/18
gailbrown says:
You are keeping up great quality substance in your posts. I really preferred it. I discovered this site while I used to search for some shrewd articles. I read every one of the articles that you have partaken in your site and it's to a great degree valuable. The technique you utilize the article is peaceful staggering. I really have some sensible work mastery with
best paper composing service
and my words are plainly upheld what I felt through such procedures inside the past
8/16/18
funnyjokes2018 says:
Commonly we attain confused when we finally hear the exact terms website development service in addition to internet developer getting used interchangeably. But thoughts is broken done looking over this, all your individual confusions may perhaps disappear. Poof!
webnovel
9/17/18
nikkihope says:
I enjoyed over read your blog post. This was actually what i was looking for and i am glad to came here! I found so many interesting stuff in your blog especially its discussion
Retail packaging boxes
. Incredible post keeps up posting such great information. It's can make you successful in business. Thanks!
9/29/18
[ post comment ]