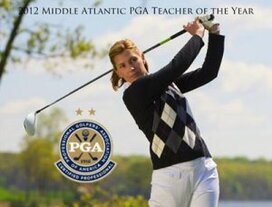 Don't Be Greedy
By
Erika Larkin
on 10/2/13
The goal I hear from almost every student is that they want to be more consistent. However we have to be realistic that this is not a game of perfect and we are going to miss some shots. The key is to not let that destroy a given hole or round. So this is my advice:
If you have a bad shot on a hole -- don't make it two! One is enough so don't be greedy and try to "make-up" a shot. It usually doesn't work out very well. You could end up wasting more shots by playing too aggressively. So, take your medicine and play it safe. If you end up in trouble or in a bad lie, get the ball back in play on the next shot (the fairway) and continue on from there.


Delay your inner reaction. In general it is a good idea to wait until the ball comes to rest to react to the shot. If it looks like it's going into the trees or water, don't get all upset the second the ball flies off the clubface; you never know, it could kick out to the fairway, bounce off a rock and onto the green or in the hole. If you keep a positive vibe you might be surprised that the "rub of the green" will work in your favor. Getting mad or upset doesn't really help anything -- it just creates tension and anxiety that kills your golf swing and rhythm. You may get your ball and find the lie is not so bad or you have a clear shot out when you didn't think it would be playable. Then you just got upset for no good reason!


I personally have had rounds where I hit the ball poorly and scored well on days where my short game has been on or I just get lots of good "bad shots". Grind well around the greens and any day can be a good day. Putting valuable time into practicing your short game will prove worth-it on holes where you end up in some trouble.


Most golfers aren't good enough to warrant a temper, so accept the miss-hits, EXPECT them, and move on. Play for bogey. There is nothing wrong with that, after-all it's better than taking double-par!


Don't start searching for new swing thoughts the minute you miss a shot. Stick to your game plan and the thoughts that usually help you on the range and go back to your pre-shot routine and trust your process. You might not get your swing back on the next shot if you're stressed but it's not gone for good. When all else fails, default to a punch shot or half swing or short iron that you can hit well (even off the tee box) and bunt the ball around the course to keep it in play. Most people can score almost as well playing with only a 7-iron and a putter as they can with a full set of 14 clubs, so simplify your game for the day like this if you are having trouble.


If you have a bad hole or shot early in the round, remember, golf is a long game. There are many more holes to make up shots if you just keep a positive outlook. And every hole is a fresh start. You never know what will happen on the next hole or the back nine. Maybe this is your lucky day for a hole-in-one! If you defeat yourself early, you will not have a good chance of any comeback or turning your golf mojo around!
One disclaimer -- if every shot or every-other shot is a mishit, this article is not for you. Please call your local PGA Professional and take some lessons to improve your mechanics. Then, come back and re-read this article and heed my advice if you're struggling with a moderate level of inconsistency.
Erika Larkin is the Director of Instruction at Larkin Golf Learning Community, at Stonewall Golf Club in Gainesville, Virginia. She was named the 2012 Middle Atlantic PGA "Teacher of the Year" and the 2011 "Top Golf Pro" by Washingtonian Magazine — and she's oobgolf's newest columnist! She writes on a variety of topics including instruction, so if you have a question for her or an idea for a column, e-mail her at ErikaLarkin@pga.com. Enjoy!
[ comments ]
niall420 says:
The blog was absolutely incredible. Lots of extraordinary information which can be helpful in a few or the other way. Continue refreshing the blog, looking forward for more contents. Incredible job and keep it up.
Setting up a limited company
3/26/18
Caitlynkatesj13 says:
What a great post! I enjoy reading each words of your article
torrents
6/19/18
rickferri453EricksonFerry says:
This is an awesome rundown of tips! I am always watchful for enlightening golfing blogs. There is dependably space for information and improvement when it comes to golf, I truly appreciated this post and always look forward to anticipate adapting more! I need to thank you for this incredible share, I got some source to finish my article to
dissertation writing service
.
8/3/18
davidsmith6007 says:
Do you love golf? People love to play golf and there are many ardent fans of golf. However, there are people who don't know more about gold when they start to play golf. Would you like to know more about golf before you start to play the golf? You should go through the article in order to get to know more about the game golf. There are many points that are discussed right through the article that is useful to you.
Thanks,
Best dissertation writing service
9/13/18
christeenajohn says:
This article is much helpful to know about the game golf and here we can see many informative contents related to this game. I really enjoy reading this article and keep sharing more informative data related to this topic.
virus removal
11/16/18
[ post comment ]