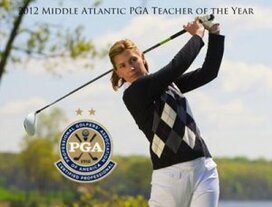 Seeing the Line
By
Erika Larkin
on 10/30/13
I've heard it said many times over the years that people view their line of putt one of two ways – in straight lines or in curved lines. Typically linear thinkers will see a straight line out to a point to the side of the hole (pin-high) and expect their ball to break off that line at a given point (which is usually vague). People that see curved lines would see the trajectory (arc shape) of the putt which would vary best on the pace visualized (faster pace putts would have less arc)
I don't think it's one or the other ... you have to have a balance to be a good putter. Putting well and reading putts well comes down to matching up the break amount with the pace, so that is why we need to see our line both ways; straight to an aimpoint, and then curving to the hole based on speed.
So the next time you practice your putting, choose a breaking putt and get two pieces of string to experiment with; lay one down to show the straight line on which you want the ball to start, and another to predict where you see the putt falling down the slope. Putt you ball and see if your start line and trajectory match up to make the putt if not adjust and try again.
One more tip: try and visualize the ball rolling in real time (ex. 3 seconds to make a downhill 15 footer) to the hole. This alone will help you choose your line if you're someone who rushes the process
Happy Putting ... and Happy Halloween!
Erika Larkin is the Director of Instruction at Larkin Golf Learning Community, at Stonewall Golf Club in Gainesville, Virginia. She was named the 2012 Middle Atlantic PGA "Teacher of the Year" and the 2011 "Top Golf Pro" by Washingtonian Magazine — and she's oobgolf's newest columnist! She writes on a variety of topics including instruction, so if you have a question for her or an idea for a column, e-mail her at ErikaLarkin@pga.com. Enjoy!
[ comments ]
niall420 says:
Well, First of all, i would like to thanks for such a great Golf learn tips this a different topic I, and I little bit know about golf, as Golf not at all like most ball games, can't and does not use an institutionalized playing zone,
new company registration
and adapting to the shifted territories experienced on various courses is a key piece of the amusement
3/26/18
Jennifer.s says:
Golf is a very popular sport that you can play for a long time. It is awesome to do in your relaxation time and in addition with business partners. You can figure out how to play golf by figuring out how to hit the ball effectively, understanding the rudiments of the amusement, and honing your abilities and ideal
uni coursework writing UK
. The session of golf takes a great deal of training and assurance to see achievement.
5/8/18
rana56r says:
American Express, also known as AMEX, is an American multinational financial services corporation.
american express confirm card
5/24/18
grazielaM says:
Very pleased to find this website. I wished to thanks on your time for this glorious read.
If you love the online games, search on Chrome your
juego friv
I undoubtedly enjoying every little bit of it and I have you bookmarked to check out new stuff you weblog post. Keep on updating your with such awesome information. Thanks Admin!
9/9/18
christeenajohn says:
I really like reading this kind of the article and here lots of informative data related to the Golf Club is shared. It makes easy to know about golf and thanks for this article. Continue sharing more informative topics.
google chrome keeps freezing
10/29/18
whitesmith0007 says:
Its good to see the article here. It allows everyone to get some information regarding the topic. Thank you so much for introducing this to us. I am interested to read more here and so share additional data here.
remove pop ups
11/13/18
[ post comment ]