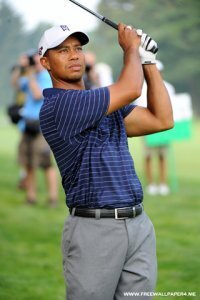 Tiger To Speak
Everyone is talking about Tiger's press conference tomorrow. Why the timing? Why at the PGA? What will he say? Of course nobody knows any of these answers, but more than a couple people have an opinion.
Here's a couple of them.
Ernie Els (via
ESPN.com
:
The timing of Tiger Woods' first appearance since his car accident and subsequent admission of marital infidelity -- on Friday in Florida, while the WGC-Accenture Match Play Championship is in full swing in Arizona -- does not impress one of the game's best-known players.

"It's selfish," former U.S. Open and British Open champion Ernie Els told Golfweek magazine. "You can write that. I feel sorry for the sponsor. Mondays are a good day to make statements, not Friday. This takes a lot away from the golf tournament."
Michael Bamberger, Senior Writer,
Sports Illustrated
:
Tiger Woods is a world-class control freak, and in his re-entry into public life — which has showered him with wealth and opportunities and trappings that we can only imagine — he is picking up right where he left off. He controls all. He's the same way with his golf ball. He tells it exactly what he wants it to do.

...

Arnold Palmer played for his fans, but Woods never has, and nothing's likely to change. It's arrogant and offputting, the whole idea of this most public of people, one of the best known faces in the world, stepping back into public life without taking so much as a question.

It's also brilliant. He's reminding us, and his opponents, too: he's still in charge.
There are many others, but I'll leave you with a lighter source. One UK Sports Book has betting lines on the first phrases out of Tiger's mouth. Leading the way at 7/2 is "Regret the hurt I've caused," and at 5/1 "Thanks my family." The whole list is worth checking out for a good laugh (200/1 - "I've been a silly billy with my willy") but my two favorites for a value bet would have to be "I love Elin" the whole way at 33/1 or "Time for a change," at 20/1.
Els Rips Tiger
Bamberger
Tiger Betting Lines
Via
Deadspin.com
photo source
[ comments ]

paddyhibernian says:
Tiger gets his own back against one of the sponsors who dropped him. I can see some fun and games in the months to come. Fur will fly.
2/18/10
keith366 says:
The man is an athlete.... not a role model, nor politician, nor genius. He only plays golf and does not control anything. The media has a tendency to make athletes bigger than life.
2/18/10

paddyhibernian says:
He is a role model. Otherwise you are correct.
2/18/10

rwails33 says:
I feel that he was not entirely sincere about the statements made. I look at him as a typical rich athlete that went the way they all seem to do once fame and money come their way. What he did speaks to his character nothing else. You can't change a tiger's stripes thus meaning you cant change inherent characterists of a person's nature. So stop with the crap go play golf. Remember, OJ was found 'Not Guilty'.........
2/28/10

paddyhibernian says:
WTF does OJ have to do with any of this. There is a huge difference between alleged murder and a young man doing what comes naturally to all young fit men. My point is he is a role model, but watching his previous behaviour means he will make sure everyone who spoke out against him and the sponsors who dropped him will become non people when the bandwagon rolls again.
3/5/10
[ post comment ]