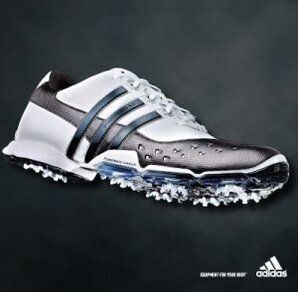 Root For Kenny Perry And Pat Perez This Wekeend
... at least on the 16th hole. If either Adidas-sponsored golfer aces the 16th hole at this week's Waste Management Phoenix Open, you could win a pair of shoes from Adidas..
The company will give away 10,000 free pairs of Powerbands if either Kenny Perry or Pat Perez—its sponsored professionals—makes an ace on the stadium par 3. Fans must register at the Adidas website in order to be eligible.

The Powerband 3.0, which retails for $140, incorporates Adidas's new "thin tech" design, which the company says brings golfers closer to the ground for greater stability and balance.
The chances of this happening are pretty slim, but hey, if there is an ace in the Phoenix area this weekend, it's more likely to happen here than anywhere. It's worth signing up. It's not like they don't have your name and email address already anyway!
Story
Sign Up To Win
[ comments ]

seochris says:
Why would anybody want a pair of golf shoes that look like trainers.....I am a Footjoy man.
3/2/10
bradley8 says:
Who would root for pat perez after the showing his brother put on in big break, kinda makes you wonder if that runs in the family. Purely classless. The perez name should not even be in the same sentence as a true "class act" like Perry.
3/2/10
kjmorales1 says:
adidas are the best golf shoe out there, everyone i have turned on to now has more then 1 pair i have 7 and counting dont knock them till you try them
3/24/10
[ post comment ]