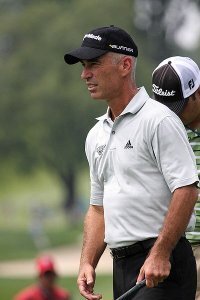 Corey Pavin Is Rooting For Tiger
So, yes, a lot of people have a lot of opinions on Tiger coming back. My favorite though, so far at least, is a quote by Team USA Ryder Cup Captain, Corey Pavin:
"I'm glad he's coming back. I hope he plays well and makes the team. I'd like to have him on the team because I think he's a pretty good player."
Yah, Corey. He is at the very least, decent. I sure hope he makes the team too- because it sure would be tough if it came down to using the last of your two captain's picks on Tiger or Nick Watney. Who would you choose?!
Source
photo source
[ comments ]
Mr Sandman says:
Pretty good Corey give me a break.
He's the best we've ever seen!
I wish him the best even though I don't agree with his off course antics.
3/18/10

sixgunz says:
Without a doubt the best we've ever seen but I wouldn't call his off course actions antics nor would I call them an addiction. I would call it a lack of character, ethics and values.
3/18/10
keith366 says:
He is an athlete... not a role model. It is not our right to judge or even be disappointed because he did something the media did not like. I would be surprised if he is the first man to do what he did.
3/18/10

paddyhibernian says:
Sorry Keith366. He is a role model.
3/19/10

Russflewelling says:
I'm with you Keith! Kids need to look up to someone they know, not someone on TV. Where would I be today if I modeled myself after Fred Flintsone, or Zack Morris. Chances are we all know someone with worse ethics that Tiger and we don't even know because NO ONE CARES!
3/21/10

sixgunz says:
Didn't say he was a role model but I'm sure he is for some that don't have a positive one in their lives. Besides, if Fred Flintstone was yours Russ you would probably be playing quarry courses with Barney and Mr Slate. Not a bad foursome, lol.
3/21/10
PARSWAITING says:
Who's to say that Arnold and Jack didn't step out once or twice, particularly Arnold? Tiger was just a bit more blatant. Kids have always looked up to our "so called superstars" just as we did as kids, but ultimately it's the parent's responsibility to teach their children integrity. I like the man because I play this frustrating game and understand its difficulty, so seeing some of the shots he pulls off blow me away. It's sad to say, but golf is boring without him.
3/23/10
[ post comment ]