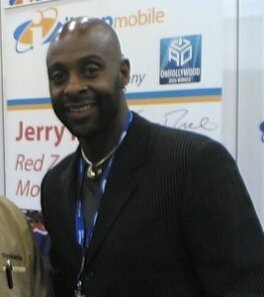 Jerry Rice To Make Pro Golf Debut
Former NFL'er Jerry Rice will make his pro golf debut this week on the Nationwide Tour.
And he isn't shy about his goals. "I'd love to make this cut in my debut," he told the AP.

Rice said he has a long history with golf that he used to dabble on the side during his NFL career.

"I can hold my own," Rice told the AP about his long game. "I have been up at night visualizing my strategy what I'm going to do on every hole.
If Rice can actually pull off making the cut- I think it's a greater golf feat than Phil winning The Masters. It really would be a huge boost to all of us with "real jobs" who dream of someday giving it all up to focus on the golf game.
Unfortunately for Jerry (and for us), it's not quite as easy said than done. Jerry may not finish dead last- but I'd bet he ends up close to it. Still- it's worth watching- and I don't dislike Rice. I'm 100% rooting for him to make the cut and finish high. It really would be amazing- I just don't think he's quite there.
Full Story
photo source
[ comments ]

T. Morris (aka "BlkMamba") says:
I think it is awesome that he is giving it a try. Another great NFL golfer is Al de greco, the kicker. It looks like JR has the most guts to give it try. I hope to be able follow him online to see how he does. I would love to have that opportunity as well. Go JR Go
4/14/10
Casey Cirio says:
I watched him on Donald Trumps Fabulous World of Golf and he did alright. That is not to say that he will do the same in tournament conditions, but it will be interesting!
4/14/10

ybok1234 says:
Welcome to the tips, slow play, tournament conditions....chokes at best
4/16/10
Bruce Leroy says:
i saw him on Trumps show too,,,,,, he sucks
4/16/10

rislam says:
yeah.....god blessem! he'll need it!
4/17/10
[ post comment ]