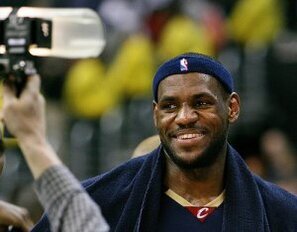 Should he sign with the Lake Show?
Tiger Wants LeBron James To Lakers
Tiger Woods thinks LeBron James should sign with the LA Lakers. I thought Tiger lived in Orlando?! Says Tiger:
"Yeah, actually I would love to see him go to the Lakers," the world's top golfer said. "I'm an L.A. guy, can't help it. That would be interesting, wouldn't it?"
I'd personally HATE this. The world is already going to be crying "collusion" tomorrow when they find out LeBron, Chris Bosh and Dwyane Wade are all going to sign for the same team, the last thing I want is for that to be with a media-darling team like the Lakers. Half of the Lakers games are already nationally televised now- imagine if they had LeBron. It'd be unbearable.
I'm sure Tiger is thrilled though- to be a in a press conference answering questions like these instead of "other stuff."
Full Story
photo source
[ comments ]

csconlee says:
Orlando? Just because he lives there for tax reasons, it doesn't mean his heart is still back in Southern California. Even though, he is not loyal to others, he is still loyal to Dodger Blue and our Lakers!
7/1/10

dewman07 says:
i agree! enough we lebron already! let him go where he THINKS he can get a championship he could have won one with the cavs if he played as a team more maybe
going somewhere else won't change or make lebron win the big one i feel cavs fan
7/5/10
[ post comment ]