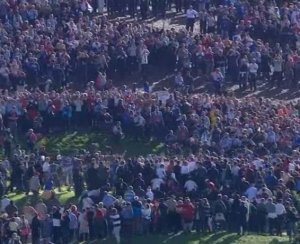 Europe Takes Ryder Cup
Well, the USA made it interesting, but Europe won the Ryder Cup.

A great comeback by Rickie Fowler. Dominating performances by Phil, Tiger and Zach Johnson, but in the end, a bad Sunday afternoon performance doomed the USA who started the singles matches with a huge 3 point deficit.

Heroes for Europe include Graeme McDowell who held off a charging Hunter Mahan to clinch the Cup as well as strong performances by Luke Donald and Ian Poulter.

Congrats to the European team- who just never wants to lose on home soil. We'll see you in 2 years!
[ comments ]

inky bill says:
I was there supporting Europe and the atmosphere was electric - The crowds were great and respectful of both teams which is how golf should be. Being Welsh myself, I am very proud of how we coped with the terrible weather on the Friday and Sunday and got play back out. Please don't think the weathers like this in Wales all the time - if it was held when it was supposed to held you would have had full days of 25 degrees and no rain ! Thank the Fed ex cup for that. Going to Play Royal St Davids tomorrow, yet another gem of a course in Wales. See you in two years at the next Ryder Cup. Bye for now.
10/5/10
[ post comment ]