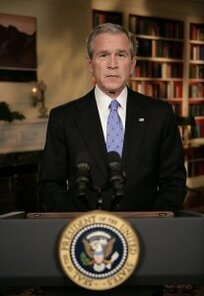 George W. Bush's Connection to Golf
You learn something new everyday.
I just read an interesting article about former President George W. Bush's love for the game of golf and his storied family connection to the sport. I knew "W" played golf, but I had no idea he had family ties to the game that date back to the 1920s.
Most desert golfers know that Bush's father, President George H.W. Bush, played in the 1995 Bob Hope Classic along with then-President Bill Clinton and former President Gerald Ford.

But George W. Bush's family has been involved with golf at the highest levels. His grandfather, Prescott Bush, was the president of the United States Golf Association in 1935 in addition to being a U.S. senator from Connecticut. And Bush's great-grandfather, George H. Walker, also was a president of the USGA in 1920.

The biennial Walker Cup matches between an amateur team from the United States and a team from Great Britain and Ireland is named for George H. Walker, who donated a trophy to the competition.
According to Barney Adams (founder of Adams Golf), who is a regular playing partner of George, the former president isn't all that great, but he's very competitive. Here's a funny exchange between Barney and the president.
"The first time we met on the course I said, 'Hi, I'm Barnyard,' and he said 'I'm W,'" Adams recalled. "On the third hole, he had a 6-footer (putt) and said, 'When I was president they gave me these.' I said, 'You're away.'"
I know people have mixed opinions about W, but I would jump at the opportunity to play a round of golf with the former president. Heck, I can't think of a past president I wouldn't want to tee it up with. Regardless of your feelings toward their policy, I would love to hear some of their stories. I'd even hit the links with Barrack Obama if given the chance.
Full Story
photo source
[ comments ]
ahmedraza1001 says:
great
5/26/19
ahmedraza1001 says:
I just thought it may be an idea to post incase anyone else was having problems researching but I am a little unsure if I am allowed to put names and addresses on here.
kenya virtual phone
5/27/19
ahmedraza1001 says:
These websites are really needed, you can learn a lot.
바카라사이트
8/7/19
ahmedraza1001 says:
This is very interesting content! I have thoroughly enjoyed reading your points and have come to the conclusion that you are right about many of them. You are great.
click here
10/12/19
ahmedraza1001 says:
This is helpful, nonetheless it can be crucial so that you can check out the following website:
visit website
10/18/19
ahmedraza1001 says:
This is very useful, although it will be important to help simply click that web page link:
그래프사이트
10/20/19
ahmedraza1001 says:
On this subject internet page, you'll see my best information, be sure to look over this level of detail.
정보이용료
10/31/19
ahmedraza1001 says:
For many people this is important, so check out my profile:
메이저사이트
10/31/19
ahmedraza1001 says:
Building a Mobile app for Android and iOS platforms is very challenging. All mobile app should support the different operating systems. Our service
mobile app development company austin texas
to know many different complexities to help different android device because of opensource support and at the same time iOS have various platforms and screen size
11/1/19
ahmedraza1001 says:
I am always searching online for storys that can accommodate me. There is obviously a multiple to understand about this. I feel you made few salubrious points in Attributes moreover. Detain busy, awesome career!
BTC Price
11/18/19
[ post comment ]