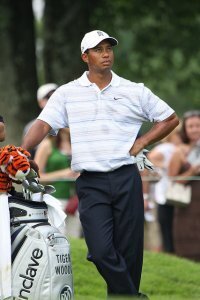 Tiger Going to Korea
As you guys know, I
jump
at the opportunity to cover anything Tiger Woods-related. But the reality is I love to travel and hearing about Tiger and other golfers jet-setting around the world makes me a little jealous.
Former world No. 1 Tiger Woods plans to visit Korea on April 14 to take part in the "Make It Matter" golf camp for junior and amateur golfers, his corporate sponsor Nike Golf said Tuesday.

Woods will first head to China in early April and then make a stop here before hopping over to Japan as part of the same program.
The cool part about this trip is Nike is allowing golfers to apply for one of the 100 spots available for the camp. The only problem is the website is in Korean. So you better know how to read Korean or have access to an awesome language translator. Oh, yea. And you will need to be in Korea.
For as much crap as Tiger gets in the media, his trip to Korea is just the latest example of how important he is to the game. There's no telling how many extra people Tiger will attract to the sport by simply attending a one-day camp in Korea. You can check out the "Make It Matter" website by clicking
HERE
.
Full Story
photo source
[ comments ]

itsotsi says:
You poor pathetic person. Why don't you focus on someone,and there are many,with some class and good morals, which I might add is what this game we all so love revolves around. As far as I'm concerned this jackass has been coddled by the US media because they are concerned about what the backlash from all the spineless brown nosed wimps might have to say in this individuals defense.He has done as much to bring disgrace to golf as he did to bring it to the masses.Just another case of the pedestaled athlete, by his own admission "Not playing by the same rules as the rest of us" poor sorry golfers who conduct ourselves with honor and and pride,which, when I last checked, is still what makes golf stand alone. His obvious lack of character is rearing it ugly head at every turn,the last of which was the spitting episode on the green. At least the commentators on the Golf Channel had the balls to say something about the poor sportsmanship of this act.
3/9/11

gaboylost says:
it is my opion about tiger is that he has to understand that he is not immortal anymore. he should get out ther and play like the rest. I really think that he will never recover to what he was in the past. after all when you think ur a god and then find out (the hard way) that your only human, well face up tiger.
3/20/11

piggypig01 says:
Its a shame to say but Tiger is not the trend of future golfers. He had his moment and now its the younger guys who have the spot light. Tiger will faded away in sunset.
3/28/11
[ post comment ]