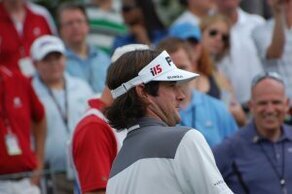 Top 5 Reasons To Attend a PGA Tour Event
After attending the Zurich Classic, I was inspired to write about my experience. I wanted to share with you my top 5 reasons why everyone should attend a PGA Tour event.
I attended the Zurich Classic of New Orleans over the weekend. My experience exceeded my expectations as I could not have enjoyed myself any more. There is no other sport where you can stand 10 feet from a professional athlete (maybe NBA floor seats) while he's in the middle of competition.
Top 5 Reasons To Attend a PGA Tour Event:
Chance to see your favorite player - I've been to a PGA Tour event before (Viking Classic in Madison, MS) but nothing like the Zurich Classic. I got to see my favorite player Bubba Watson, along with a bunch of other top golfers including Rickie Fowler (who was wearing purple and gold - Geaux Tigers!), Luke Donald, K.J. Choi, Tommy "Two-Gloves" Gainey, Steve Stricker, Chris DiMarco and Camilo Villlegas. I got to see everyone I wanted - minus the person who was the reason I planned to go Graeme McDowell - he missed the cut by five strokes. A couple buddies of mine saw Rickie Friday night with his caddie eating dinner at Dominica in New Orleans. Apparently, a lot of players and tournament officials were staying at the hotel next door to the restaurant.


The courses are even more spectacular in person - By far, TPC Louisiana is the nicest course I've seen. Every inch of the place was just perfect. The fairways were freshly cut, the bunkers were neatly raked with the fluffiest sand you can imagine and I've never seen greens with as many angulations. My home course is typically in good condition, but being in tournament condition is entirely different.

I almost got to play TPC Louisiana last summer for a friends bachelor party. We drove out to Avondale and were warming up when a typical South Louisiana summer storm rolled in. We retreated to the club house when lightening started to strike. We were hoping it would just blow over and we could still play so we waited an hour and a half in the club house. Unfortunately, it only got worse.


325+ yard bombs don't translate well on TV - Bubba Watson and Dustin Johnson are known as the "big hitters" on Tour, but ALL the players on Tour can rip it! I got to see Bubba tee off on hole 1, hole 2, hole 7, hole 13 and hole 18 and every single time, he absolutely crushed it! There is honestly nothing quite as impressive as seeing someone like Bubba launch the ball out of sight - literally. As bright as it was outside, after Bubba's ball traveled about 200 yards, I could not longer see it. The longest drive I ever hit was 346 yards, downhill, WITH the wind, on dirt pan. On Thursday of the tournament, Bubba Watson averaged 345 yards.


You get to see some WAGs - The wives' and girlfriends of the players try to blend in with the crowd, but you can pick them out from a mile away. I got to see several attractive ladies follwoing in the crowd including Angie Watson, Bubba's wife. But the best WAG I saw was Jason Dufner's significant other. She was dressed to kill (foxy lady!) and she was giving Jason looks with the same tenacity. After Jason hit his tee shot on 13, he started walking and his girlfriend was walking side by side along the rope and it appeared she was silently yelling at him, pointing her finger aggressively. We have not idea what she was saying, but all Jason could do was let his head sink in despair. My friend made the comment "He does not look happy today". Maybe it was the bogey on the twelve?


Yelling "Get in the hole" - If you think the fans who yell "get in the hole" are annoying, then you've never had the opportunity to yell it! The 13th hole at TPC Louisiana is set up as a driveable par 4, especially for a leftie who prefers to play a power-fade (know anyone?). I was able to stand right by the tee box to see Camilo, K.J., Luke, Tommy "2-Gloves", Steve, and Webb hit their tee shot. But, I was really only waiting to see Bubba. By the time Bubba got to the 13th, a small crowd had built up around the tee box waiting in anticipation. Everyone in the group I was with agreed to yell "Get in the hole" as soon as Bubba hit his tee shot. As soon as the green cleared, Bubba placed his ball, stretched his club out, lined up for the green on hole seven (playing the fade) and took a rip! As agreed, we yelled "Get in the hole" with delight. Andrew was watching on TV and knew I was at the Zurich Classic, but he didn't know what hole I was on. When he heard the gallery yell "Get in the hole" after Bubba's tee shot, he texted me and told me he heard me. So, essentially, I'm famous.

I also got to yell "Luuuuuuuke" at Luke Donald as he was walking to his approach shot on hole 7. You hear people on TV yelling that all the time. Who knew Luke wouldn't like it? He refused to acknowledge my chant of endearment so I (borderline) heckled him by saying "What, no wave? No tip of the cap? Come on!" I was shocked he didn't make any sort of gesture to acknowledge his fans in the crowd, which totalled 7 at the time - me and my friends. I saw Luke again on hole 13 in the round and tried to get the lady next to me to yell "Luuuke" to see if he would acknowledge her. But she was too bashful. My theory is/was he would have acknowledged a woman.
photo source
[ comments ]
ahmedraza1001 says:
The next time I read a blog, I hope that it doesnt disappoint me as much as this one. I mean, I know it was my choice to read, but I actually thought you have something interesting to say. All I hear is a bunch of whining about something that you could fix if you werent too busy looking for attention.
conference calls ireland
10/5/18
Luke ones says:
The differentiated document is placed for the moves for all individuals. The arrangement of the links of
www.aussiewritingreviews.com/essayshark-com-revi
has been put forward for the use of the tools for the humans in life.
10/11/18
ahmedraza1001 says:
Below you will understand what is important, the idea provides one of the links with an exciting site:
Imbianchini a nardò
10/16/18
ahmedraza1001 says:
I read this article. I think You put a lot of effort to create this article. I appreciate your work.
La Manga Club Property
11/12/18
Himanshu0709 says:
Hey I have a question in my mind that
where are my icons in windows 10
operating system suggest me the easiest way to find it.
11/28/18
ahmedraza1001 says:
I prefer merely excellent resources - you will see these people in:
bandarq
12/3/18
akramkhatri226 says:
Listed here you'll learn it is important, them offers the link in an helpful webpage:
CBD gifts
11 hours ago
[ post comment ]
Most Popular:

Subscribe