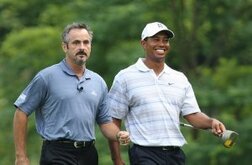 Tiger Woods Wins Chevron World Challenge
By
mustang6560
on 12/5/11
Tiger Woods is finally back in the winners circle.
"It just feels awesome whatever it is," he said.

"I've been in contention twice this year, which is not very often," Woods said. "So that's my third time with a chance to win it. I pulled it off this time."
All the talk about Tiger's two year plus win less drought is finally over. Now, the golf media can start speculating about more important things like when will Tiger win on the PGA Tour again and when will Tiger win a major again (insert sarcasm).
As Tiger stood over his birdie putt on the 17th hole yesterday, I had a feeling that if Tiger made it to tie Zach Johnson then he'd win the tournament. And in that moment, I found myself rooting against him. It's not that I'm partial to Zach or anything, I just wanted Tiger to go two complete calendar years without a win. Then, he could go about his winning ways and break/set whatever records he wanted.
Tiger's win Sunday reminded me how much I've missed his victorious fist-pump and subsequent war cry. I think one of the reasons golf fans truly adore Tiger is because he knows how to celebrate a win. The very moment after a victory is the most emotion we ever get to see from him and I love it!
read more
photo by Keith Allison
[ comments ]

richard@allenbs.co.uk says:
Don' get too excited - there were only 18 players in the tournament, and the best players in the world were winning elsewhere!
12/6/11

paddyhibernian says:
It's the equivalent of winning the midweek medal on the local Muni with only the seniors participating and all the good golfers playing on the big course. Reduction only methinks. :-)
12/8/11

shootermagavin says:
Cant see the point of knocking tiger,the field number or the event to be honest.
The guy has been through the ringer in full public view and although i dont condone what he did (only he knows really)he has just got himself back up a few rungs on the ladder to rebuild his game and his life more importantly.
Good for you Tiger and nice to see you back winning again.
No sarcasm needed about majors either as anyone who knows golf would know that Tiger could win 1 or 2 next year and it would be nothing really.
Will he win anything next year? Why not a Major?
12/17/11
[ post comment ]