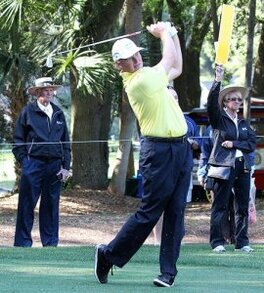 Ernie Els wins The Open Championship
By
mustang6560
on 7/23/12
I missed the majority of the weekend coverage of The Open Championship because I was volunteering at the True South Classic. But, I did manage to catch a few minutes of the live broadcast in between rain delays (the weather tried to ruin the True South Classic).
As someone who only caught glimpses of the final round, I didn't believe the spectator who told me that Ernie Els won The Open. I knew he was near the top of the leaderboard, but Adam Scott had a commanding four stroke lead coming down the stretch. There was no way Adam was going to finish with four bogeys and give Ernie a putt on the 18th.
If I didn't know any better, I'd say Ernie owes the folks at Augusta National a thank you card for not extending him an invitation to the Masters earlier this year. Had he not felt the pain, embarrassment or anger of missing the Masters for the first time since 1994, he may not be where he is today.
I normally try to post a recap of the majors on Sunday to get a jump on the story. But, as I said above, I spent the morning and the early part of the afternoon volunteering on hole 3 at
Annandale Golf Club
. And after watching other people play golf for two straight days, I had to play a little golf myself, so I spent the rest of the afternoon and the early part of the evening hacking it around
Deerfield
(my second home course).
What are your thoughts about Ernie Els winning his fourth career major at
Royal Lytham & St. Annes
?
Read an interesting article? Tip Your Editor
Image via Flickr,
Keith Allison
[ comments ]
nagar28496 says:
Hellow friends,today we have learnto how can detete you tube watch history and browser search history,then connected to
history delete
it is very helpful info to all window users,this process are very simple,then forwerd to with friends.
2/1/18
ahmedraza1001 says:
During this website, you will see this shape, i highly recommend you learn this review.
conference call services
10/2/18
ahmedraza1001 says:
I encourage you to read this text it is fun described ...
Aziende ristrutturazioni a sorso
10/14/18
ashlydoll11 says:
I invite you to the page where see how much we have in common.
new construction builder
10/22/18
ashlydoll11 says:
You ought to basically fantastic not to mention solid advice, which means notice:
ölpresse
11/2/18
ahmedraza1001 says:
You bear through a awesome vacancy. I sanity definitely quarry it moreover personally suggest to my buddys. I am self-possessed they determination be benefited from this scene.
Costa Blanca Property For Sale
11/12/18
ashlydoll11 says:
On that website page, you'll see your description, why not read through this.
카지노사이트
11/30/18
akramkhatri226 says:
This content is simply exciting and creative. I have been deciding on a institutional move and this has helped me with one aspect.
우리카지노
12/1/18
ahmedraza1001 says:
This is important, though it's necessary to help you head over to it weblink:
Judi online
12/3/18
akramkhatri226 says:
Hi there, I discovered your blog per Google bit searching for such kinda educational advise moreover your inform beholds very remarkable for me.
DISC teamworkshop
12/4/18
[ post comment ]