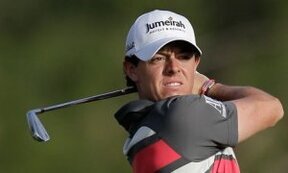 Great Britain or Ireland?
By
mustang6560
on 8/16/12
With London 2012 in the rear-view mirror, the focus of the international community has already shifted to South America for 2016 Olympics in Rio de Janeiro - and golf's return to the Summer Games.
And since we're on the topic of Rio, one individual, Rory McIlroy, is facing the biggest decision of his professional golf career - which country - Ireland or Great Britain - will he represent?
It is regrettable that McIlroy should be facing such a dilemma, when his second major title at the US PGA is a cause for jubilation on both sides of the Irish border. And yet he is under pressure to declare his hand for the Rio Olympics because he is Catholic. His great friend and compatriot, Graeme McDowell, is spared the same predicament as a Protestant, since it is widely expected that he will compete for Britain.

But Northern Irish Catholics tend, as boxing medallists Paddy Barnes and Michael Conlan showed at London 2012, to align themselves with the Republic. Representing Britain would, at one time, have been deemed perfidious, equivalent to backing a state that they perceived as oppressive.

McIlroy seeks to stand above the swirl of sectarianism. He negotiates his path through a minefield of questions with complete neutrality, since he defines himself as Northern Irish first and regards all other matters of political affiliation as secondary.
The expression, "damned if you do, damned if you don't" comes to mind. If he picks Ireland, he'll upset people in Great Britain. And if he picks Great Britain, he'll upset people in Ireland. This seems like a lose-lose situation for Rory. I wonder if he can agree to represent Ireland in 2016 and Great Britain in 2020 (or vice versa)?
read more
Read an interesting golf article? Tip Your Editor
Image via Flickr,
internetsense
[ comments ]
SPACEMAN says:
i personally think if it were myself, i would want to represent the country where i was born, the heck with everything else. rory will make the right decision i'm sure. none the less, GREAT pay'n so far rory....
8/18/12

grmarsha1 says:
When he's presented on the 1st at a tournament where is he announced from? Ireland. nuff said.
8/19/12

el_pato_real says:
Actually, grmarshal...he's announced from Northern Ireland.
I don't envy him in this situation. I think it's been close to ten years or even more since any deaths from sectarian violence in Ireland/Northern Ireland, but it's still an issue that could upset a lot of people no matter what he decides.
8/19/12
[ post comment ]