2012 Ryder Cup: The Meltdown at Medinah!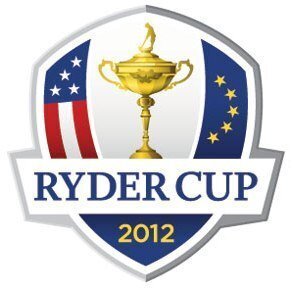 On Saturday night, the U.S. held a 10-6 lead over Team Europe at the 39th Ryder Cup matches. But speaking on The Golf Channel, David Feherty said it felt like the score was "tied," 10-6. Likewise, this writer also felt that the score was
much
closer than the score indicated; after torching Medinah with his putter on Friday, Nicolas Colsaerts burned so many hole edges on Saturday that somebody needed to give him a bottle of Bactine™ - he was that close, that often.
And when Luke Donald grabbed a 1-up lead on Bubba Watson at the second hole, the momentum shift was clearly on.
SUNDAY SINGLES MATCH PAIRINGS:
MATCH 1
Luke Donald def. Bubba Watson, 2 & 1

Donald birdied the 11th to go 3-up, then jumped to 4-up when Watson bogeyed 12. At 13, dumped his tee-shot into the water at 13, but when Watson dumped his tee-shot into the front bunker, the hole was halved with bogeys. Watson birdied 15 and 16 to get back to 2-down, but got no closer. With Donald's win, the score was 10-7 for the U.S.

MATCH 2
Ian Poulter def. Webb Simpson, 2-up

Simpson birdied 4 and 6 in gaining a 2-up advantage over Poulter, but then collapsed when he hit a tree with his tee-shot at 7, then shockingly cold-shanked his tee-shot at the par-3 eighth. Simpson birdied 10 to briefly retake the lead, but Poulter got his fourth birdie of the day from 14 feet at 12 to square it. Poulter then parred 17 while Simpson bogeyed, then birdied 18 to beat Simpson 2-up.

MATCH 3
Rory McIlroy def. Keegan Bradley, 2 & 1

Rory birdied the 4th through 6th holes, and while Bradley birdied the 5th, 8th, and 10th, eventually forcing McIlroy back to all-square at 12, Rory birdied 14 and 15 to retake a 2-up lead, icing it with a par at 17.

MATCH 4
Justin Rose def. Phil Mickelson, 1-up

Rose got off to an early 2-up lead after two, but Lefty birdied 4, 5, 8, 11, and 14 to make this interesting. But Rose birdied 17 with a bomb from seemingly across the Wisconsin state line, squaring the match. Rose then birdied 18 to win, the match. Mickelson, ever the gentleman, applauded Rose after his magnificent shots at 17 and 18.

MATCH 5
Paul Lawrie def. Brandt Snedeker, 5 & 3

Snedeker and Lawrie parred the first three holes, then Lawrie grabbed the lead for good with a birdie at 4 and built up a 5-up lead at 13. Snedeker birdied only the 10th and 14th holes to chip away and played the 15th aggressively, but was toast when Lawrie birdied the 15th after laying up, winning 5 & 3.
At 4:23 p.m. CT, NBC's Johnny Miller, stunned, told his audience, "the U.S. is in big trouble." The Americans' lead was gone.
Tie game, 10-10
.
MATCH 6
Dustin Johnson def. Nicolas Colsaerts, 3 & 2

Johnson birdied the first hole to the Belgian's bogey and held the advantage the rest of the way. Colsaerts rallied to get the match squared at 4, 9, and 13, but Johnson birdied 14 and 15 on the way to a win.

MATCH 7,
Zach Johnson def. Graeme McDowell, 2 & 1

The Golf Channel's Rich Lerner has compared Zach Johnson to Corey Pavin, describing him as "an American bulldog;" Johnson won the first hole with a par to G-Mac's bogey and the Northern Irishman couldn't get the match squared again, birdieing only 5 and 9 to chip away at a pair of 3-up leads for Johnson.

MATCH 8,
Sergio Garcia def. Jim Furyk, 1-up

This match was an unmistakable nail-biter; after Sergio birdied the second hole, he bogeyed the third to fall back to all-square. Furyk birdied the 8th to grab the lead, but Garcia birdied 10 to square it. Furyk birdied from ten feet at 12 to retake the lead, only to lose it at 13 with a bogey. At the par-3 17th, Furyk dumped his tee-shot in the bunker, while Garcia hit a high cut into the center of the green, two-putting for par. Furyk pushed his par-saver to the right. At 18, Furyk found the fairway bunker off the tee, then after looking at his putt four times, burned the right edge. Game over.

MATCH 9
Jason Dufner def. Peter Hanson, 2-up

One of the few bright spots for the United States on this Sunday afternoon, Dufner parred the 3rd to gain a 1-up lead, wobbled at 10, 11, and 12 to lose a 4-up lead, but held on to win by two at the last.

MATCH 10
Lee Westwood def. Matt Kuchar, 3 & 2

Westwood had not played particularly well on Friday or Saturday, while Kuchar was strongly favored to win. But Westwood grabbed a lead three times, while Kuchar was only able to square the match twice. Kuchar bogeyed 12 and 13 to go 2-down, then Westwood birdied 15 to go 3-up.
At 4:28 p.m. CT, Team Europe led for the first time, 13-12, needing only one more point to retain the Cup.
MATCH 11
Martin Kaymer def. Steve Stricker, 1-up

Going into Sunday, Martin Kaymer was generally considered the weakest link in Team Europe. Stricker birdied the 2nd to gain a 1-up lead, but bogeyed the sixth. The German briefly held a lead after the 9th, 12th, and 14th, but while Stricker's putter was coughing, Kaymer's par-saver rimmed out. Then at 17, Stricker was in better position, but his own par-saver rimmed out. Kaymer was 1-up with one hole remaining.
At 5:06 p.m. CT, Johnny Miller told his NBC audience, "
A miracle has to happen on the 18th - right now
."
At 18, Kaymer hit driver into the right fairway bunker, while Stricker safely played to the right side of the fairway. Both Kaymer and Stricker approached safely to the left side of the green, but Stricker was away - no thanks to a hook lie in a hook wind from 164 yards. Stricker made his par-saver, but Kaymer wrote Ryder Cup history by draining his own par-saver, pipeline - right down the middle.
At 5:13 p.m. CT, it was stunningly and irrevocably over - Team Europe had retained the Ryder Cup, rendering the conclusion of the twelfth and final match meaningless.
MATCH 12
Francesco Molinari and Tiger Woods halved

Molinari alternated between all-square with Woods and two different leads. Woods gained two 1-up leads at 13 and 17, but then at 18, he missed a birdie chip from behind a sprinkler head, then burned the edge of the jar with his par attempt. After three days and 28 matches, the only match-up at Medinah that was halved was the final one - and given the participants involved, that this match was halved was as shocking as the Medinah Meltdown itself.
| | |
| --- | --- |
| | |
| 14½ | 13½ |

The Ryder Cup matches do not have a Conn Smythe Trophy or equivalent MVP award, but if such an award existed, the award would go to
Ian Poulter of Team Europe
. After stoking Europe's hopes late Saturday afternoon, Poulter maintained the pace against the defending U.S. Open champion.
Dozens upon dozens of singings of "Olé, Olé, Olé" followed, and after a chant of "Seve!" during the closing ceremony, Team Europe captain José María Olazábal had to wipe away a tear before saying, "I'm sure he is very happy where he is" — which drew a burst of applause.
In their follow-up coverage on The Golf Channel, Nick Faldo revealed that he had tweeted that now is finally the time to replace the European Tour logo with one bearing the shadow of a Seve Ballasteros fist-pumping. It is hard to argue with that opinion. Seve will undoubtedly loom large in the forthcoming highlight video and in the books that will come along in the months and years ahead.
José María Olazábal said Saturday night, "I still believe." And this writer went to sleep Saturday night with the nagging feeling that Captain Olazábal was correct.
Read an interesting golf article? Please tip your editor!

Image via PGA of America
[ comments ]
no comments posted yet.
[ post comment ]
Most Popular:

Subscribe