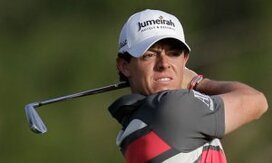 Rory McIlroy wins European Tour money title
By
mustang6560
on 11/12/12
Matteo Manassero
defeated
Louis Oosthuizen in a playoff Sunday at the Singapore Open to win his third European Tour title as a teenager, but the story out of
Sentosa Golf Club
was Rory McIlroy's third place finish.
The Ulsterman needed a top 10 finish in Singapore to win the European Tour money title and join Luke Donald as the second person in history to win both PGA and European Tour money titles in the same season. Rory not only earned a top 10 to secure his latest career accomplishment, he closed with a 6-under-par 65 Sunday including an eagle on the par-5 18th to finish in solo third.
"It has always been one of my goals ever since securing my Tour card five years ago," he said of capturing the Harry Vardon Trophy, "but then to also end the year as both European and PGA Tour No. 1 is just amazing."

"Winning a second major already made it a fabulous season," McIlroy said, "but then to follow Luke Donald in becoming No. 1 in both Europe and the States is the icing on the cake after a fabulous season. I set myself a number of ambitious goals at the start of the year, and to have ticked so many of the boxes feels great."
I know what you're going to say — you're not that impressed because Tiger Woods unofficially won both money titles seven times, but you should be. You shouldn't discount Rory's accomplishment. Rory won four times in 2012 including the PGA Championship and racked up four second place finishes and two third place finishes around the world. And he's only 23-years-old. If continues to play well, he may officially win both money titles more times than Tiger unofficially won them.
read more
Read an interesting golf article? Tip your editor!


Image via Flickr, internetsense
[ comments ]
laiden575 says:
Golf is a famous club-and-ball sport in which players utilize many clubs to hit balls into a number of holes in few strikes, as few as it is possible. Golf like many ball games, cannot use a consistent playing area, and dealing with the diverse lands faced on various courses is a main part of the game. I think it's
highest rated resume writers
and every students must take a look and contact to create resume better.
12/30/18
nagar28496 says:
Window are mostly used in operating system,now update your window and get the many new features
windows 10 add printer
so,that is very simple process,now using the simple tips to find solve this issue.
1/10/19
[ post comment ]