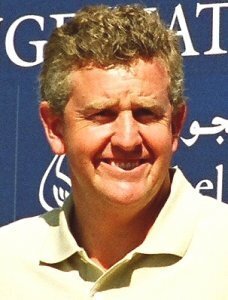 That Ryder Cup record. That hair...
More HOF controversy
If you thought the inclusion of Fred Couples in the
World Golf Hall of Fame
was controversial because he won only one major, hang on to your hats: On Tuesday, they
announced
two more inductees, one of which is sure to get tongues wagging:
Colin Montgomerie.
(Longtime European Tour director Ken Schofield is also being inducted in the Lifetime Achievement Category.)
Jason Sobel of the Golf Channel
managed to point out
some justifications for inducting Montgomerie, including eight Order of Merit (money list) titles, 31 European Tour victories, and an undefeated singles record in the Ryder Cup.
Two mitigating factors stand out in contrast:
Monty never won a major championship - not even the Open Championship. The closest he came was, on five occasions, finishing either solo second or T-2.


Monty never won a single PGA Tour event in the United States, either.
Alright,
oobers
... I went on a partial tirade
yesterday
, so I fully expect to see at least one full tirade about the full Monty in the HOF.
read more
Read an interesting golf article? Please Tip Your Editor!


Image via Wikipedia
[ comments ]

tsheaffer23 says:
Montgomerie had a very fine career, espeically in Europe and in the Ryder Cup.
That being said, he at best is a fringe player as it relates to the HOF.
Monty could not get it done in the majors for any number of reasons, most of which were due to him being flat out not good enough.
12/20/12

markdude says:
What utter rubbish.
Whilst I personally don't like Colin Montgomery, his 8 Order of Merit titles is enough to enter the HOF. Tell me someone else who has done that? He was good enough to win majors, a couple of poor shots cost him.
Tell me an American who beat Monty on singles play in the Ryder Cup? Golf is best when playing against a person, not the course.
12/22/12

DBLACE58 says:
I don't think the Order of Merit should be enough. If he can't win in America against America. Europe and the rest of the worlds best he doesn't deserve HOF status. While I really don't like that Monty comes across as he does (stuffy/arrogant), I think he is really probably a pretty nice chap. That being said, I still don't think he has earned his way into the HOF
12/23/12

scottishguyiniowa says:
Okay everyone's making comments about the fact that he's never one a major, so you're telling me if Luke Donald never wins a major he's not entitled to being in the Hall of Fame for winning both Orders of Merit in the same year? The first person to manage this. "If he can't win in America against America" as DBlACE58 said, at the time qualifying for the Ryder Cup was dependant on whether you played enough events on the European Tour. Colin loved to play in the Ryder Cup and it was one of his main targets every year to qualify so he was limited in the tournaments he could play. If they had said when the HOF was started that it was only for major winners then it truely is not Golf's Hall of Fame. It is Golf's Major Winners Hall of Fame.
12/29/12
nelmel says:
I think this is a case of the Americans wanting to play "it's my ball and i don't want to play anymore" Have you actually looked who is in the hall of fame?
While White Christmas is a festive favourite I can't actually remember Bing Crosby winning a major!!!
Before you start slating a European Legend who none of the good ol US of A boys could beat in Matchplay, have a look and see what the HOF is actually about.
Time for you septics to get a reality check, how many of your guys win on the european tour?
signed ANGRY SCOTSMAN
12/30/12

shootermagavin says:
Ben Curtis won The Open as did John Daly so are they worthy of the Hall of Fame?
Of course not,Monty has never won a major but as a career he did pretty good.
I would put him into the hall of fame but who is to say that he wont win a major at all,Darren Clarke anyone?Rocco mediate in a playoff with tiger not that long ago? Tom watson at the Open,again only a few years ago,even Ernie this year!!!Maybe just maybe he might snag one (although I doubt it)and then suddenly he deserves to go in
The Order of Merit may not be seen as a big deal in america but amounts to the modern day European fed Ex Cup if you think about it.
DBLACE58 you are completely ignorant and oblivious to the fact that golf is a global game and not just something you watch on NBC or ABC on a sunday afternoon I really do think that he has earnt his way in,regardless we love you Monty.
OLE OLE OLE OLE EUROPE EUROPE>
12/31/12
mamcel says:
Does anyone know how many Americans in the Hall of Fame did not win European titles?
12/31/12
Dougie Blues says:
has anyone cared to have a look at the HOF link and see who is on the list of HOF members ?
all this about Monty never having won in America, or never won a Major.
Could all those doubters out there explain how often Bing Crosby or Bob Hope won on ANY tour or Major !!
what about Eisenhower or GW Bush !
the Hall of Fame appears to have many different entry requirements, and i believe Montgomerie`s achievements speak for themselves, Major wins or not the man has been a credit to the game for many years and deserves the accolade.
12/31/12
[ post comment ]