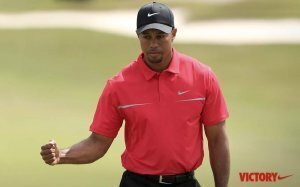 "76, 77, 78..."
Tiger Wins (Again), Sergio Melts Down
In his 300th PGA Tour start, going back to the Los Angeles Open way back when, Tiger captured his 78th PGA Tour victory and second Players Championship on Sunday.
Woods's methodical and meticulous approach to his game was evident this weekend. Whether or not he deliberately engaged in a little gamesmanship, the fact is that on the second hole on Saturday, Garcia was about to hit his second shot when Woods apparently pulled a fairway metal out of his bag, sending the surrounding fans into a noisy buzz. Garcia yanked the shot to the right and made bogey. Garcia was noticeably upset afterward:
"I wouldn't say that he didn't see that I was ready, but you do have a feel when the other guy is going to hit and right as I was in the top of the backswing, I think he must have pulled like a five-wood or a three-wood and obviously everybody started screaming. So that didn't help very much. But it was unfortunate because — I mean I might have hit it there if nothing happens, you never know — but if I hit a good shot there and maybe make birdie, it gets my day started in a bit of a different way."
Woods, in the meantime, made birdie. After the round, Woods told several reporters that it wasn't surprising that Garcia was "complaining about something."
While there should be no question that Sergio has virtually all of the golf shots needed to win a major, at this point in time, it's evident that Garcia hasn't quite mastered the art of keeping a cool head under non-match play pressure. Last September at Medinah on Sunday, when his Ryder Cup opponent Jim Furyk dumped his tee-shot into a bunker at the par-3 17th, Garcia calmly hit a high cut to the fat part of the green and two-putted for par. But Garcia's anger at Woods obviously spilled over into Sunday afternoon, because at the infamous 17th at Sawgrass, Garcia aimed right at the sucker hole-location, rinsing two balls and making a quadruple-bogey 7 on his way to a seven-way tie for 8th place.
It has also been noted that Tiger's win at Sawgrass yesterday represents the earliest on the calendar that anybody on the PGA Tour has reached four victories in the same season.
Would anyone like to bet against Woods at Merion?
Read an interesting golf article? Tip Your Editor!
[ comments ]
taffycox says:
Would anyone like to bet against Woods at Merion?
Depends whether he breaks the rules and gets disqualified (or disqualifies himself)........oh wait, he doesn't get disqualified, the authorities make up a new rule for his misdemeanours.
5/14/13
Hopen2Score says:
Is it fair that some golfers have the benefit of being taped or broadcast the minute they step foot on the course until they leave, while the television audience doesn't even know some golfers are even participating in the event? Unless every golfer is afforded the same luxury, the television audience should not be allowed to communicate with the officials. When was instant replay allowed, anyway? Trial by television should only be in play when every player's shot is televised.
5/15/13

tsheaffer23 says:
Two comments about this past week's Player's Championship as it relates to Tiger and Sergio.
First, you are correct in your assessment that Sergio is still a hot head and still needs to mature. With that being said, it now appears that Tiger himself wasn't truthful when he stated that a marshall told him that Sergio had already hit his shot from the fairway before he reached for a club.
Tiger stated that the marshall said that Sergio hit, he then reached for a club which drew a reaction from the crowd, at the same time Sergio was hitting his shot, which obviously caused him to hit a wayward shot.
It was reported yesterday that both marshall's with Tiger state that Tiger never asked them if Sergio had hit and neither one of the marshall's volunteered that info.
It appears that Tiger lied about the incident.
Either way, Sergio choked on 17 & 18 to hand the tourney to Tiger.
5/15/13
Prosecutorgolfer says:
Go to the Tape!!!!!
5/15/13

Noel Bomar says:
I find it amusing that so much emphasis is placed on the 2nd hole incident between Sergio and Tiger. IT WAS THE 2nd HOLE...there was plenty of opportunity left in the round for Sergio to make up that one shot. How many times has some other PROFESSIONAL GOLFER gotten off to a bad start and made up for it during the round. If Sergio is unable to put an incident behind him and play on as a competitor in a round to offset a bad shot that he himself said "I mean I might have hit it there if nothing happens, you never know...", then what is he complaining about? So much emphasis on a single shot in an 18 hole round? Give me a break... these are PROS. Play like one. One added note, if Tiger did intentionally intend to disrupt Sergio's play than that in itself is not acting like a professional either.
5/15/13

Howgolf says:
I am yet amazed at how much hatred is aimed at Tiger. Here we are watching a guy play the game like no one has ever played it, against one the deepest field of golfers ever. Yet his skills are so under appreciated. And now I hear others saying things like the rules are being changed to favor him. It's a rather sad commentary, but Thank goodness Tiger has thick skin and immured to a lot of this nonsense. As for me, I'm going to sit back and enjoy watching the greatest golf EVER!! Oh yeah, we should really stop pretending that there's a rivalry between Tiger & Sergio--tiger destroyed that myth long ago--just as he will against any other mythical rival someone conjures up. WELCOME BACK TIGER!!!!!!
5/17/13

mwtravlr says:
I think Tiger's drop out of the water on #15 Sunday was a bigger issue. I looked at the video over and over, listened to the broadcasters' comments, and am convinced Tiger dropped probably 100 yards in front of the point where it entered the water hazard. Although his ball was in the air 6 seconds, he turned totally away from the shot after 2.5 seconds and never looked back. After the shot, he asked his playing partner if it crossed land over the forward tees. He dropped the ball 210 yards from the tee, where the ball would have had to fly virtually straight, then make almost a 90 degree turn to land 30 feet out in the water. He subsequently made double bogey, which was probably what he would have made if he'd made a proper drop. But when the best golfer in the world turns totally away so he would not see the ball finish, then asks a tour rookie where the ball went, it seemed he was relying on their comparative "status" to get a favorable ruling. What rookie is going to challenge Tiger?
5/20/13
[ post comment ]