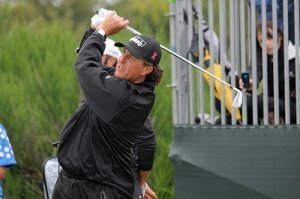 Less Lefty
As reported
by Golf Channel's Will Gray, Phil Mickelson plans to cut back his playing schedule in 2014. The idea is to have his game peak for the U.S. Open Championship next June at Pinehurst.
And who can blame him?
"There is no hiding the fact that winning the U.S. Open would be my career goal and completing the career Grand Slam. That is the final leg that I have and I'll be putting most of my focus into winning the U.S. Open."
Lefty is 43 years old and won the 2013 Open Championship. His other major victories are three Masters Tournaments (2004, 2006, 2010) and the 2005 PGA. This year, he started 21 events. But next year, will he skip Jack Nicklaus's Memorial Tournament (May 29-June 1) in order to play in Memphis the week before the U.S. Open?
"I just don't know how it is going to play out right now," he told reporters in Malaysia. "I know that I am going to start cutting a certain percentage of events next year and I'm not sure which ones those will be."
Given that he took a calculated risk in playing — and winning — the Scottish Open the week before the Open Championship, it is safe for us to assume that he will carefully pick and choose which events he'll play leading up to the U.S. Open. And here's one golf writer who refuses to bet against him.
read more
Read an interesting golf article? Tip Your Editor!


Image via Flickr, TourProGolfClubs
[ comments ]
garmantis332 says:
To get robux for free then use my link
robloxrobuxonline.com/
for the free roblox robux game to play free.
9/17/18
ahmedraza1001 says:
A good blog always comes-up with new and exciting information and while reading I have feel that this blog is really have all those quality that qualify a blog to be a one.
international conference call
10/3/18
ahmedraza1001 says:
Thanks for writing such a good article, I stumbled onto your blog and read a few post. I like your style of writing...
Aziende progetto edificio
10/14/18
ashlydoll11 says:
You possess lifted an essential offspring..Blesss for using..I would want to study better latest transactions from this blog..preserve posting..
new construction builder
10/22/18
ahmedraza1001 says:
I exploit solely premium quality products -- you will observe these individuals on:
Costa Blanca Property For Sale
11/12/18
akramkhatri226 says:
Actually I read it yesterday but I had some thoughts about it and today I wanted to read it again because it is very well written.
우리카지노
12/2/18
ahmedraza1001 says:
Great info! I recently came across your blog and have been reading along. I thought I would leave my first comment. I don't know what to say except that I have.
Judi online
12/3/18
akramkhatri226 says:
For many people this is the best solution here see how to do it.
DISC team workshop
12/3/18
[ post comment ]