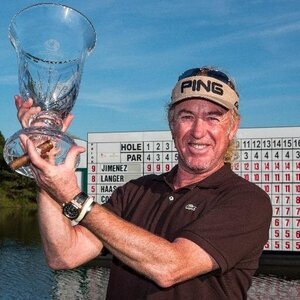 Let's get one thing out of the way quickly: We know that Miguel Ángel Jiménez's nickname amongst his peers is "The Mechanic." But in the last five or six months, a new nickname has emerged, based on a beer commercial: "The Most Interesting Golfer in the World."
One year ago in January, Jiménez was interested in the 2014 Ryder Cup European captaincy. At that time, he was on the shelf with a broken leg sustained in a skiing crash. (
At least it was a glamorous injury.
) At that time, this writer opined that seeking the captain's post was logical, since he was "not likely to qualify for the 2014 matches as a player."
So much for THAT thinking.
In December, Jiménez won the Hong Kong Open (co-sanctioned by the European Tour and the Asian Tour) by shooting -12 in regulation, then winning a three-person playoff.
Earlier this month, the 50-year-old Interesting Golfer hot 71-76-66-71 = 284 to finish solo fourth at The Masters, a mere four shots behind Bubba Watson and one shot out of a second-place tie with Jonas Blixt and Jordan Spieth.
This past weekend, he won in his Champions Tour debut, shooting 65-70-67 to win the 54-hole Greater Gwinnett Championship by two shots over Bernhard Langer, who himself finished T-8 at The Masters.
And then, there is the 2014 Ryder Cup at Gleneagles in Scotland. We already know that Jiménez will be there; he has already been named an assistant captain by Paul McGinley. But The Interesting Golfer appears to be done with senior golf for the year; he wants more. Much more.
"I still go my goal for the end of the year. I would love to be part of the Ryder Cup.

"People want me all over the place. I don't know what's going to happen for me. It's not about money... (it would) make me feel proud myself if I play in the Ryder Cup once more."
And nobody is really snickering about that idea, either — least of all, two-time Masters champion Langer:
"He said he would not play any more this year (on the Champions Tour). He wants to make the Ryder Cup team and be the oldest player ever to play for Europe. But golf can change. Who knows? Maybe he makes the Ryder Cup team by July and comes out here. I think we're going to see more of him in the future, but not in the next few months."
Jiménez is already a four-time Ryder Cup participant, but his overall record is 4-8-3 — and he would like one more chance to improve on that.
At the rate he has been playing, he might get that chance.
Read more
Read an interesting golf article? Tip Your Editor!
Image via Twitter
no comments posted yet.