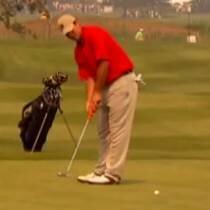 National Football League star quarterback
Tony Romo
of the Dallas Cowboys is one of the better golfers among professional athletes in other sports. His USGA handicap has been reported at various times from +1 to +3.3. But Romo has undergone two operations on his back, including a microdiscectomy — the same procedure Tiger Woods underwent in March — last December.
As a result, Romo has not played golf since April of 2013 — and apparently will not again anytime soon. Quoted by David Moore of the
Dallas Morning News
, Romo talked about the procedures — and setting aside golf for awhile:
"Sometimes, you put yourself in a tough position when coming off a surgery. That's why we have a pitch count with me throwing and why we do it that way.

"You've got to get yourself healthy, then figure out where you're at and go from there for everything. It's not just golf. It's a way you live life.

"I don't think about it as [giving up] golf. It's just life. You want to give yourself the best chance to succeed on the football field."
Romo is known for playing heavily during the off-season. Given his +3 USGA handicap / shot index, Romo was an unsurprising inclusion in tournaments like the American Century Championship (where he finished as runner-up in 2009, 2010, and 2011) and the AT&T Pebble Beach National Pro-Am.
Your humble correspondent is no expert on American football (
Australian Rules
happens to be my favorite code of football), but it should not take an expert to guess that, when Romo retires from the NFL, he will probably return to golf in earnest.
Then
we can see more moments like this:
Read more
Read an interesting golf story? Tip Your Editor!
Image via YouTube
no comments posted yet.