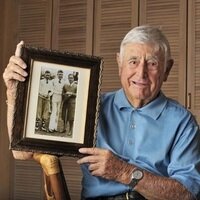 On Wednesday morning, golf lost Samuel Henry "Errie" Ball at age 103. Leslie Adams Gogarty, Ball's daughter, told the Associated Press that her father passed away at a hospital in Stuart, Florida. Ball was the longest-tenured member of the PGA of America at 83 years.
Born in Wales, Mr. Ball became the youngest competitor in Open Championship history in 1926, when he teed it up at
Royal Lytham & Saint Annes
at age 16. Just a few years later, none other than the legendary Bob Jones recommended that Ball move from Great Britain to the United States to teach at
East Lake Golf Club
, which is famous for being Jones' home club.
In the ensuing years, Mr. Ball was the first director of golf at Butler National when the club opened in 1972. During those years, he won the Illinois PGA Championship three times, the Illinois PGA's senior championship, and also the Illinois State Open. In later years, he worked at clubs in Arizona and finally in Florida. His last posts were as director of golf at
Willoughby Golf Club
in Stuart, and at
Stuart Yacht & Country Club
.
Ball was inducted into the PGA of America's Hall of Fame three years ago; he was a 1990 inductee into the Illinois Golf Hall of Fame.
But it was his association with Jones that resulted in playing the first Masters Tournament in 1934, when it was called the Augusta National Invitational Tournament. Mr. Ball was the last surviving golfer to have played in that inaugural event, where he finished T-38.
Not long ago, Golf Channel host Rich Lerner and producer Scott Rude interviewed that gentleman and produced this excellent feature:
Our respect and our respects go to his wife Maxie, daughter Leslie, and their families and friends. Errie Ball was a remarkable man.
Read more
Read an interesting golf story? Tip Your Editor!
Image via Tim Rosaforte
shubham says:
Thank you very much for giving me a best and perfect
ghjkl
track for the working in our system.
8/7/19