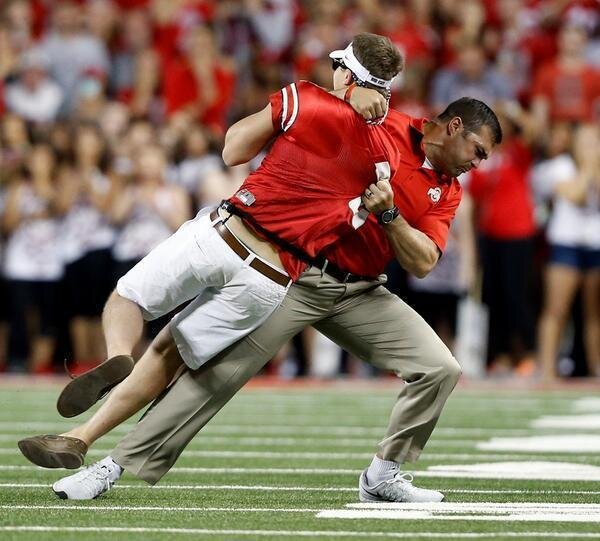 Chances are that if you weren't completely immersed in the Ryder Cup (like your humble correspondent was), you might have seen the photo and/or video clip of a Ohio State University fan running onto the field at Ohio Stadium on Saturday — and getting a logical and well-deserved reception (
above
) from Buckeyes football strength and conditioning coach Anthony Schlegel, a 6-foot 1-inch, 251-lb. former NFL linebacker and an alumnus of the school.
Here is the video-gone-viral:
Now we have learned that the criminal trespasser is 21-year-old Anthony Wunder from Cincinnati, who has been attending Ohio State on an
Evans Scholarship
, awarded by the Western Golf Association to former caddies with a strong record, good scholarship, and financial need. Thanks to intrepid reporting by Ted Hart of NBC affiliate WCMH-TV in Columbus, we now know more about Wunder — and his "un-Wunder-ful" behavior:
As for Anthony Schlegel, whose college education actually began at the United States Air Force Academy before a transfer to Ohio State, Doug Lesmerises of the
Cleveland Plain Dealer
dug up some
interesting follow-up facts
about the incident, including this quote from Ohio State head coach Urban Meyer:
"In all seriousness, I grabbed Anthony last night. I appreciate him protecting our players. I would rather him not have a lawsuit if something bad would happen, you drill a guy like that. So we had a partial serious conversation. And then we also gave him a Hit City Award, our team, and had a little fun with it, too."
For his part, Ohio State defensive back Armani Reeves had this:
"I didn't find out until after the game it was Coach Schlegel. But there's a reason he played football I guess. I don't know how that kid actually got up. He actually got forced up. It was a good hit, a good form tackle."
As with anything gone viral on the World Wide Web, Coach Schlegel's take-down has been met with approving parody:
Read an interesting golf article? Tip Your Editor!
Image via Twitter
ally1957 says:
great story funny or what
10/3/14
DonaldHi says:
Although, the concept is clichéd but water can cure a lot of issues, including hair-loss. The amount has been perfectly described: the intake must be half your body weight. It will
descriptive essay on getting lost in the city
that ensure your scalp and your body is hydrated and functioning.
8/10/18