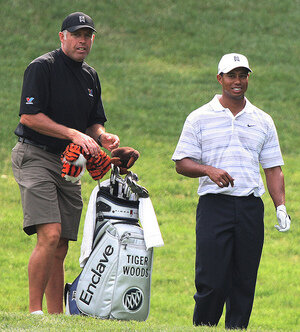 Boy, how times change.
In July of 2011, Tiger Woods fired Steve Williams as his caddie. Following the split, the native of Wellington, New Zealand began caddying for Adam Scott, who won the 2013 Masters Tournament. Since Williams announced his retirement, Adam Scott will move to a new caddie for 2015.
Now comes word
from the Associated Press that Williams still plans to retire, but is open to re-joining Tiger Woods on a part-time basis. When questioned by a reporter if Williams would be willing to work for Tiger again, Williams said:
"[H]e's definitely someone I'd consider. He's a tremendous talent, but it's hard to say right now because it's only two weeks since I've hung up the clubs."
When this tidbit first hit the wires late Thursday afternoon, scribes were scribbling and Twitter was all a-twitter.
The gigantic missing piece in all of this is what Tiger thinks of the idea.
Woods, of course, has had Joe LaCava on the bag since September of 2011. LaCava is noted for having toted the bag of Fred Couples during his glory years on the PGA Tour. We at
SkyGolf 360
suspect that Tiger enjoys having LaCava on the bag
in part
because we never hear or read much about LaCava when he's not on the course. Furthermore, LaCava rarely, if ever, speaks to reporters — something that Woods undoubtedly appreciates very much.
Given the very public and acrimonious split between Woods and Williams, this is an unusual extension of the proverbial olive branch. But we're going to predict that nothing develops unless LaCava is forced to the sidelines by an injury or a family emergency.
Read an interesting golf article? Tip Your Editor!
Image via Flickr, Keith Allison
GaryForce says:
This is the great opportunity to join as a part timer. As per the
australianwritings
service, most of the people want to get this opportunity. I hope he will fulfill his responsibilities.
8/17/18
ahmedraza1001 says:
If you think that this is the
best thesis writing service
you are wrong, there are so many amazing stuff out there, better than what this is actually so you should actually consider looking into that instead, think about it okay !
8/29/18