Finchem Has a Ryder Cup Solution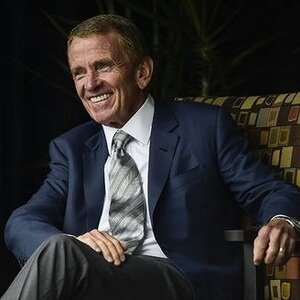 One month ago, this writer, like other golf writers and analysts,
explained
that the Americans lost the Ryder Cup at Gleneagles in Scotland because they got skunked 7-1 in the Friday and Saturday afternoon foursomes.
Now, from Ryan Ballengee of Yahoo! Sports comes word of
PGA Tour commissioner Tim Finchem's analysis
— and solution — to the American team's loss at the Ryder Cup.
News flash: Finchem has decided that the loss was caused by...
the same thing we said last month
:
"You can't play foursomes down 7-1 and think you're going to win the cup. Seven to one in the Friday and Saturday [matches]; you're climbing a mountain. They made more birdies they we did and that's the reason we didn't win the cup. It's not the first time it's happened."
According to Ballengee, Finchem's
possible
solution to the problem is to start an official exhibition "side event" of foursomes (a.k.a. alternate shot) during the week of the Arnold Palmer Invitation in March. Such a possibility is reasonable since the demise of the old Tavistock Cup, which was also held in Orlando.
Ballengee reasonably suggests that Finchem made his comments in part because he was not included in the PGA of America's official 11-member Ryder Cup Task Force. It is certainly reasonable for us to assume that Finchem wants to be in the spotlight of golf news and propose something "big" in advance of any action the Ryder Cup Task Force takes in the future.
What could be interesting — and possibly hilarious — is if the PGA of America and the Task Force actually agree, and then decide to get the jump on the PGA Tour and schedule such an exhibition before Finchem and the PGA Tour get off the ground with their own plans. It could make Finchem so upset that it makes more of his hair turn gray, sending him scrambling back to his hair colorist.
Have you seen an interesting golf story? Tell us about it!
Image via Twitter, PGA Tour
[ comments ]
TheresaD says:
Well, golf is my favorite sports too. I used to see my grandfather playing this game a lot but now he is no more. From that time I left this game completely but today this article reminded me so many old memories about golf. Glad to have
professional college essay writers
suggestion here.
4/2/19
Watson54 says:
I was pretty much disappointed when my favorite team America lost Ryder Cup at Gleneagles in the year of 2014. You can easily read
Review of Edubirdie Australia
for fruitful educational info. They were giving pretty dominant performance throughout tournament but at the end they lost their grip.
1/23/20
robertandreson says:
It is an art that requires skill and stamina both, do you know that it is the most difficult thing to do when you learn horse riding. I will say please check my
foundationpartnership
online and guide me if you have any type of question you can directly ask me any time. Thanks a lot for your nice sharing and stuff.
4/17/20
ahmedraza1001 says:
It is fine, nonetheless evaluate the information and facts around this correct.
안전놀이터
5/3/20
ahmedraza1001 says:
I would recommend my profile is important to me, I invite you to discuss this topic.
룸알바
5/3/20
faheem says:
First You got a great blog .I will be interested in more similar topics. i see you got really very useful topics, i will be always checking your blog thanks.
카지노사이트
5/5/20
ahmedraza1001 says:
This is very useful, although it will be important to help simply click that web page link:
바카라사이트
5/7/20
ahmedraza1001 says:
This is very significant, and yet necessary towards just click this unique backlink:
메이저놀이터
5/8/20
ahmedraza1001 says:
I invite you to the page where see how much we have in common.
casino
5/22/20
[ post comment ]