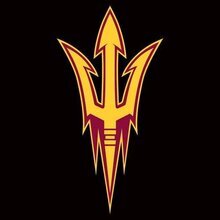 Phil Mickelson is a busy guy these days. The PGA Tour star is a major attraction wherever he plays, has a boatload of money, has a beautiful family, and has five major championships to his credit. But now, on top of his tour schedule, his charitable work, his being a celebrity spokesman for arthritis medicine, his being part of the PGA of America's Ryder Cup Task Force, his fledgling golf course design firm, and trying to sell his home in San Diego (again)... Mickelson has taken on a new gig:
Interim Assistant Men's Golf Coach at Arizona State University.
As
reported by Lance Ringler
, Mickelson will be working for fourth-year head coach Tim Mickelson — Lefty's brother. The PGA Tour star has taken the job on a temporary basis, following the departure of former assistant coach Joe Prince, and will operate under a very different set of "rules of engagement" for coaches than for alumni. In fact, Lefty has already made one
recruiting telephone call
to Australian teenage standout Ryan Ruffels.
No word yet on whether Lefty will insist that his brother deploy a "
pod system
" on the ASU team when their season starts on January 26. :-P
Have you seen an interesting golf story? Tell us about it!
Image via Twitter
no comments posted yet.