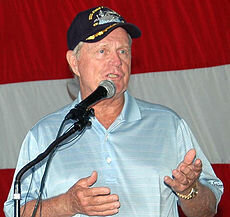 Legendary golfer Jack Nicklaus, age 74, could be the next recipient of the Congressional Gold Medal.
Legislation passed the United States Senate on Tuesday, meaning that only a signature from U.S. President Barack Obama is required to confirm the honor. The bill was introduced in 2012 by Ohio's two U.S. senators, Rob Portman and Sherrod Brown. Senator Brown said the honor is "a fitting tribute for a man who has given so much to his community and country."
Aside from Nicklaus' accomplishments on the golf course, he founded the PGA Tour's Memorial Tournament, which has given over $20 million to charitable and non-profit organizations in central Ohio since the tournament was first held in 1976.
Nicklaus received the Presidential Medal of Freedom in 2005 from U.S. president George W. Bush and would join Arnold Palmer as the only two golfers to have been given both awards. The only other golfer to have received the Congressional Gold Medal is the late Byron Nelson. To date, the most recent honoree is Shimon Peres, the former Prime Minister of Israel.
Have you seen an interesting golf story? Tell us about it!
Image via Wikipedia