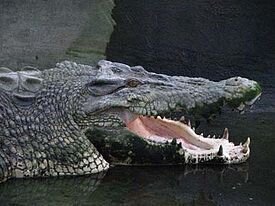 A golfer from eastern South Africa
died Wednesday
after being attacked by a crocodile. According to the
South African National Parks department
, 29-year-old Jacques van der Sandt was searching for golf balls in deep water when the attack occurred. Van der Sandt was the son of two long-time Kruger National Park employees.
"These animals are not in good condition as they have just come out of hibernation. The animal was doing what naturally comes to them; hunting for food and unfortunately a life was lost in the process," said ecologist Danny Govender in a SANParks statement.
The moral of the story is simple: If you are playing golf in an area where crocodiles and/or alligators are present, please stay out of the water. The same is true even when reptiles aren't present; we are reminded of the sad storm of Scottish golf enthusiast Thomas Ross, who drowned while attempting to retrieve his golf ball from a water hazard in Spain last year.
Your life is far more valuable than a sleeve of seemingly-expensive golf balls.
Have you seen an interesting golf story? Tell us about it!
Image via Wikipedia

Himanshu00mishra says:
Get the mozilla firefox browser with more advanced features with the updated version of the mozilla firefox. It is safe and secure. If you want to get such browser then here you will get
mozilla firefox free download
for your pc without any charge.
6/15/18