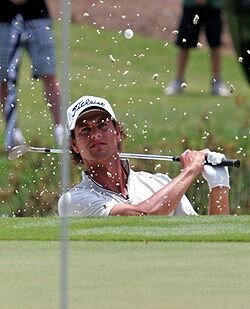 Adam Scott
has told
The Courier-Mail
of Brisbane that he feels that golf in the 2016 Summer Olympics in Rio de Janiero should be strictly for amateur golfers:
"People watch us (as pros) play 45 weeks a year. If you really wanted to grow the game, you'd have the Olympics for amateurs.

"Rio is not something I've thought a lot about, but it is something I have a desire to be part of. I'm not going to change my focus... it will be on the four majors. The Olympics will not be my priority.

"I'll prefer going to see the guys running fast."
Indeed, when French historian Pierre de Coubertin (1863-1937) revived the ancient Olympic competition and founded the International Olympic Committee, he wanted the Olympic games to be a competition among amateurs, as in the ancient Olympics. Obviously in the last half-century, we have seen the competition permit professional athletes in several sports.
Nevertheless, Scott is not trying to throw cold water on golf at the Olympics.
"I do hope there is a good effect for golf. That is very important," said the 2013 Masters champion.
Have you seen an interesting golf story? Tell us about it!
Image via Wikipedia
rishav says:
Every one wants to make their vocabulary so strong that anywhere when they get the chance to speak then their performance should be very impressive and efeective for this
unscramble words solver
word unscrfamble tool is the best and free tool to make your dreams come true.
6/6/18
rkrajan05898 says:
This article gives the info that
how do i fix bluetooth audio devices connections in windows 10
if you want to take more information regarding Bluetooth connectivity then apply and follow steps which i provided you.
8/29/18