PGA Tour player Jeff Overton is known among his fellow players as a fiery competitor, as well as a huge fan of Indiana University Hoosier basketball. On Tuesday evening at Madison
Circular
Square Garden in New York City, Overton was in attendance, watching a game between Indiana and the University of Louisville: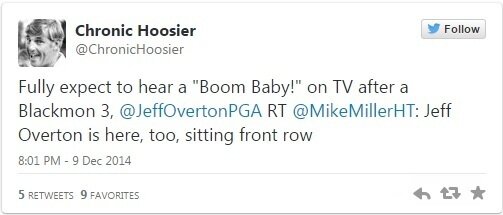 Shortly thereafter, Overton went overboard:
Minutes later, Overton tweeted to the rest of the world what it was that made him so angry: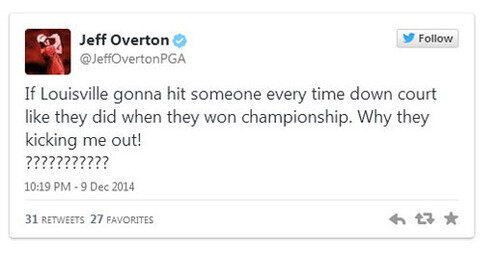 Apparently, Overton later came to a more sensible place in his brain and deleted the tweet. But this is the digital age, so several enterprising people screen-capped the tweet for posterity.
Golf News Net
reported the story
and added the following detail:
Three years ago, Overton faced legal problems related to his behavior after an on-campus Hoosiers game. After the IU-Kentucky game in Bloomington on Dec. 14, 2011, Overton was arrested on three misdemeanor charges of public intoxication and disorderly conduct. Earlier in the day, Overton appeared at the game against Kentucky to present a $50,000 check to the university. Early the next morning, Overton was in the passenger seat of a limo, yelling at people outside the vehicle at 3 a.m. Bloomington police pulled the limo over. Overton, who police said he was "belligerent," refused to provide his identification or step out of the vehicle. Police extricated Overton from the car and arrested him. Overton felt he was mistreated by police.
Um... OK, that might explain what happened Tuesday evening.
Armchair psychologists and substance abuse counselors, it's your turn.
Have you seen an interesting golf story? Tell us about it!
Image via Twitter
ahmedraza1001 says:
If only
assignment geek
would have done a topic on here, it would have been so much fun if they would have gotten the coverage on this news here, but i guess thats not going to be possible here at this moment i guess !
8/29/18
ahmedraza1001 says:
I found Hubwit as a transparent s ite, a social hub which is a conglomerate of Buyers and Sellers who are ready to offer online digital consultancy at decent cost.
virtual phone number forwarding
9/7/18
ahmedraza1001 says:
The next time I read a blog, I hope that it doesnt disappoint me as much as this one. I mean, I know it was my choice to read, but I actually thought you have something interesting to say. All I hear is a bunch of whining about something that you could fix if you werent too busy looking for attention.
conference calling
10/4/18
ahmedraza1001 says:
Cool you inscribe, the info is really salubrious further fascinating, I'll give you a connect to my scene.
Impiantisti per fotovoltaico a Trento
10/15/18