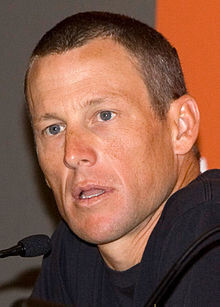 Like golf, cycling is one of the most beautiful sports in the entire world. This is because both contain all three of the classic literary conflicts: Man versus man, man versus nature, and man versus himself.
Unlike golf, the sport of professional cycling has been rife with doping and drug scandals for decades, which has ruined some of the most dramatic sporting events in history. Lance Armstrong is world-famous for having won cycling's Tour de France seven times before being stripped of his titles for doping. Since leaving competitive cycling, Armstrong has become tremendously enamored with golf, and
wrote about it
in the January 2015 issues of
Golf Digest>
. It is an interesting read, start-to-finish.
In the middle of his column
, Armstrong briefly addresses doping in cycling and explains that, for decades, doping was not considered cheating:
"It was an arms race where absolutely anything went, and it was every man for himself. You might consider me the last guy to have anything to say about cheating, but golf is different. I love adhering to a code of honor that we in cycling didn't have. If I moved my ball in the rough and got caught, I wouldn't just regret it, I'd be heartbroken forever. When I think about reform in cycling, I think about golf."
This may sound awfully dishonest, but unfortunately history has proven Armstrong correct. Wikipedia lists some
275 cases
of cyclists doping throughout cycling history — and they include most of the greatest names in the sport, including Eddy Merckx, Jacques Anquetil, and most tragically,
Tom Simpson
.
Armstrong's column may not necessarily make you admire him, but it certainly is worth the read.
Read an interesting golf article? Tip Your Editor!
Image via Wikipedia
no comments posted yet.