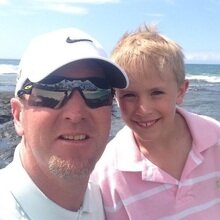 David Duval is a real man — one who apparently keeps his public promises.
After winning the 2001 Open Championship, Duval's most recent victory was in Japan at the 2001 Dunlop Phoenix. Shortly thereafter, he encountered a slew of injuries, as well as a sort of ironic letdown in his pursuit of more victories. When he wasn't sidelined by various physical ailments over the last decade (including a case of vertigo), he also came to the realization that family and friends were more fulfilling than a busy PGA Tour schedule.
Finally, on December 10, 2013, the Champion Golfer of 2001 said that 2014 would be the last full season he would make an all-out effort to regain his PGA Tour playing privileges. The final three posts of his Twitter-burst that evening were crystal clear:
True to his word, Duval has joined Golf Channel as a studio analyst and will cover some of the biggest events in golf on a regular basis. The 13-time winner on the PGA Tour will be on-camera when Golf Channel covers the Tour's stop in La Quinta, California on January 22. It was on the Palmer Course at
PGA West
in La Quinta that Duval famously shot a final round 59 to storm from behind and win the 1999 edition of that tournament, then known as the Bob Hope Chrysler Classic.
Duval will also analyze the World Golf Championship events, the Florida swing in March, the Players Championship in May, and the Presidents Cup and Ryder Cup matches in their respective years. For now, Duval will work events that do not conflict with his planned playing schedule for 2015.
The well-read and occasionally self-deprecating Duval has actually served as a guest analyst already, having appeared during coverage of the 2012 U.S. Open at Olympic and last year's BMW Championship at
Cherry Hills
near his home in Denver.
Golf Channel executive producer
Molly Solomon
was quoted for the press release — and instead of using the typical boilerplate PR blather, she was apparently quite candid and pleased about the addition of Duval to her crew:
"We're extremely excited to welcome David to our Golf Channel family and our talented team of golf analysts. David not only brings an enormous amount of credibility as one of the best golfers of his generation, but a knowledgeable and candid voice that our viewers will enjoy and can depend on.

"As a former world No. 1 and a major champion, he brings so much added perspective to this team. He makes the team stronger. We've been talking to him for a year about this. We found we could create a schedule where he could continue to play.

"Most of all, I value his candor. Thoughtful conversation about golf is compelling television."
Given Duval's obvious intellect and undeniable experience, we will be watching with interest.
Read an interesting golf article? Tell us about it!
Image via Twitter

bkuehn1952 says:
I am not that excited about Mr. Duval joining the Golf Channel as a commentator. The interviews with him I have heard did not inspire me.
1/7/15

mustang6560 says:
I am surprised he stuck to his word and hung up the cleats.
1/8/15
Himanshu0709 says:
Hey I have one of the most useful tutorial for you just visit here and get the most useful tutorial to get that
how do i change computer name in windows 10
operating system in few steps.
11/28/18
Pesos12 says:
The article is help everyone to have new daily links about duval golf channel. The
www.rushmypapers.me
website details you must follow for having great content about their news readers and golf players.
1/6/19
photoshoponline88@gmail.com says:
This article is useful for know about the root security of the containers. I got the knowledge of working of containers with the root behavior with the kernel
bullet force
1/24/19
maoyufeng126 says:
I've dumped several other tracking sites and stopped entering info into my own Access DB.
jeux de casino
2/22/19