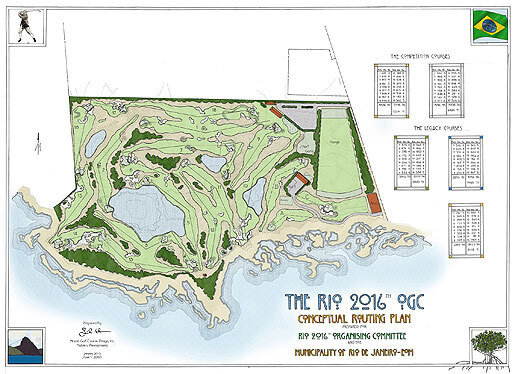 Seemingly against all odds and amid a long string of bureaucratic blunders and political in-fighting, construction the 2016 Olympic golf course at Rio de Janiero is complete and grow-in is now in progress,
according to architect Gil Hanse
.
"By all accounts, it's going well. We're still hopeful — the project has obviously had a lot of setbacks here and there along the way, so I can't expect that it's going to be completely smooth going forward.

"But we're all enthused; the design is intact. They didn't ask us to make any changes, so we're proud of what's being built."
Hanse said that the only unfinished group of tee-boxes had been seeded in December and that only the practice range had yet to be grassed.
Now, much of the work falls on the shoulders of a talented 55-year-old Englishman: Rio course superintendent Neil Cleverly. The 16-year veteran of the British military is more than just a turf guy; he is a senior International Superintendent member of the Golf Course Superintendents Association of America. The aptly-named Cleverly has a particular approach to his job — and life:
"Classes and seminars form the basis of knowledge as a starting block to further education. It's then up to the individual to pursue that knowledge further if they want to progress in any industry or walk of life. That is particularly pertinent to the turf industry because of the complexity and dynamics of golf course management and the many differing countries and cultures that now encompass the great game of golf worldwide.

"My philosophy is if you love what you do for a living, you never really work a day in your life."
When he is not tending to golf courses, Cleverly is something of a renaissance man; in addition to English, Cleverly also speaks Spanish and French. And now, he is learning Portuguese, which is totally relevant given that he is working in Brazil at least through next year.
So long as the Brazilian Olympic Committee and their security staff take care of their facilities and protect the Olympic golf course from leftist protesters and eco-terrorists, grow-in and preparations should go smoothly.
Read an interesting golf article? Please tell us about it!
Image via International Golf Federation

bkuehn1952 says:
What I will find interesting is what happens after the Olympics. In 2020 will the course have fallen on hard times as it is overwhelmed by subsidized golfers and a low maintenance budget? Or will it morph into an exclusive club when the Brazilian government is no longer interested in dumping money into the running of a golf course? Hard to tell but my cynical side tells me that some wealthy group is going to get their hands on the course and "save it" after it gets run down.
1/14/15

Torleif Sorenson says:
Hanse's design is such that it is supposed to be relatively low-maintenance after the Olympics. Of course, politicians and bureaucrats might find a way to screw up *that* plan too, since they almost managed to torpedo timely construction of the course itself.
1/16/15
ahmedraza1001 says:
I'm impressed, I must say. Very rarely do I come across a blog thats both informative and entertaining, and let me tell you, you ve hit the nail on the head. Your blog is important..
conference call south africa
10/5/18
ahmedraza1001 says:
Cool you write, the information is very good and interesting, I'll give you a link to my site.
Imbianchini a novi ligure
10/15/18