Terry Koehler is a Texas-based golf club designer with several decades of experience and a successful track record. Longtime SkyGolf members might know him better for
his numerous columns
as "The Wedge Guy." Last summer, Koehler was chosen to
lead the resurrection
of the
Ben Hogan Golf Equipment Company
.
This week at the PGA of America's annual merchandise show in Orlando, Florida, Koehler and company unveiled their first new sets of clubs — with an eye toward accuracy, feel, and playability.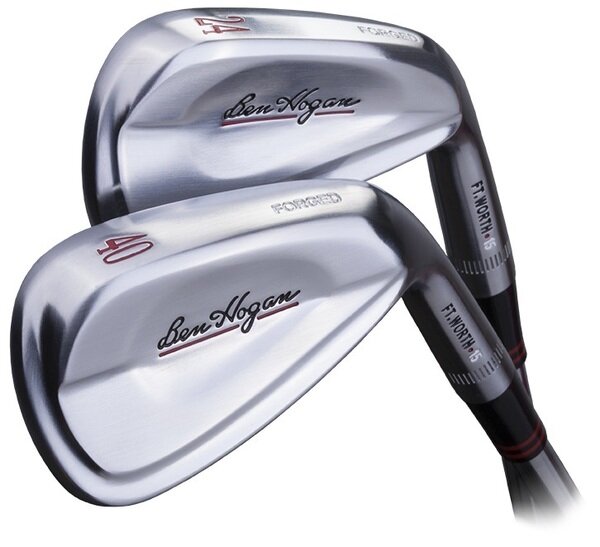 Leading the return are the elegant
Fort Worth 15 irons
, which feature a particular note of "truth in advertising." These blades are forged from 1025 carbon steel and feature the actual club loft on the sole of the club. This is in response to other clubmakers who get away with saying things like, "our 5-irons are ten yards longer" because they are, quite simply, yesterday's 4-irons.
While using loft angles instead of assigned club numbers might take a little getting used to, this is not unprecedented in the golf industry. What
is
unprecedented is that the company's HoganFit™ system is designed not only to be accurate, but to provide flexibility in custom-fitting for their customers: The Fort Worth 15 irons are available from 20° to 47° lofts —
in 1° increments!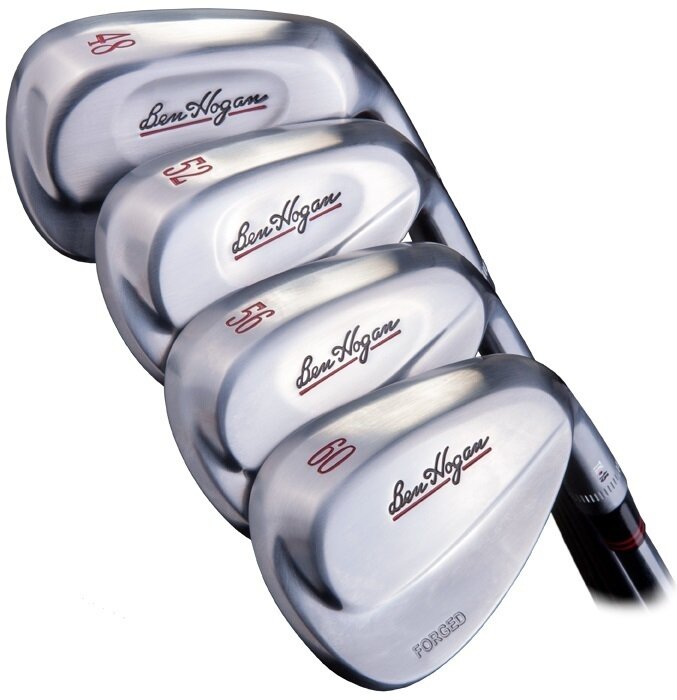 Covering the short game are the new TK 15 wedges, which are designed especially to match the Fort Worth 15 irons in feel and accuracy, while providing a sole that maximizes their effectiveness from a variety of lies.
Koehler accomplished this by creating an increased leading-edge bounce and decreased trailing edge bounce. In his design, Koehler and his team have also implemented specific weighting for clubs of different lofts, in order to provide consistent ball-flight and distance characteristics. They also moved the weight higher in the impact area of the clubface in order to provide some consistency and forgiveness on off-center impacts.
As with the Fort Worth 15 irons, the TK 15 wedges are available from 48° to 63° lofts — again, in 1° increments. Both product lines have KBS Tour in steel and UST Mamiya Recoil in graphite as the standard shaft options.
In leading the resurrection of the company and brand, Koehler has been very careful not only about making clubs of which he feels the late and legendary Mr. Hogan would have approved, but also to use modern technology to ensure consistent performance and high standards of manufacturing and quality assurance.
The cost of these clubs will be higher than the average cut-rate brands, of course, but as with so many things in life, "you get what you pay for." With Koehler's established record as a proven club designer, including for the original Hogan company back in the day, these clubs may well be worth your time and attention if you are contemplating a serious upgrade in your irons.
Have you seen an interesting golf story? Tell us about it!
Image via Ben Hogan Golf Equipment Company
Salman86 says:
As you know that most of the windows 10 user still doesn't know that how clipboard window 10 then from our website
clean clipboard
you will get help to clipboard window 10. it is awesome it is always there when you want need it.
7/8/19
JasonMills says:
This golf tournament is going to be played between two competitive players, one should
read this post here
for more help in reading reviews about essay writing sites. whose performance is really appreciable but still this tournament will get the result who will is the best one.
2/25/20
AdamsonQ says:
I did not play golf but still, I like to watch this game. As my grandfather used to play this game a lot and actually he was really good in this and was one of the best players of his time. This game is royal thanks for
rushmyessay
updates here these are really tremendous.
2/25/20