Cleared to land... on the 10th fairway
Nobody was hurt on Sunday afternoon when a single-engine aircraft crash-landed at
Skywest Golf Course
in Hayward, California.
According
to Hayward Fire Captain Don Nichelson, the engine failed shortly after takeoff from nearby Hayward Executive Airport at around 12:48 p.m. PST. The pilot brought the aircraft down, wheels-up, on the fairway of the 10th hole. A small amount of fuel leaked out of the aircraft, but did not ignite.
"It could've been way worse," Nichelson said.
No kidding. And this is not the first time Skywest GC has served as an emergency landing site; on June 27, 2006, pilot Robert Franklin was
forced to land
a Cessna 210 on the 18th fairway after the aircraft lost power shortly after take-off.
It is worth noting that these crashes are exceptionally rare; hundreds of thousands of general aviation aircraft, including those older than the plane involved in Sunday's crash, continue to fly all around the world every single day.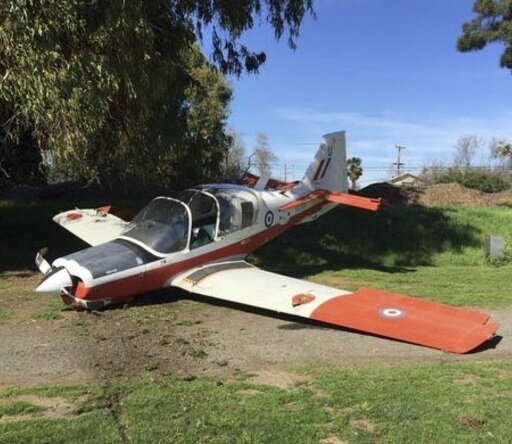 Have you seen an interesting golf story? Tell us about it!
srogers13 says:
I hope he repaired his divot.
2/16/15

bkuehn1952 says:
Let's face it, where are you going to find 400 yards of straight level land. Rather than build subdivisions around airports, we should locate golf courses there.
2/16/15

Torleif Sorenson says:
Amen to THAT! Here in Minnesota, we used to have Rich Acres Golf Course, located on the western edge of Minneapolis-Saint Paul International Airport. Sadly, the course had to be closed and bulldozed when construction of Runway 17/35 was finally needed. That runway opened in 2005, but at least I got to play Rich Acres before it closed.
2/19/15