The 2015 Minnesota Golf Show was held this past weekend — and your humble correspondent spent almost nine hours prowling the floor of the Minneapolis Convention Center in search of what was new and interesting.
And for once, this writer actually came home with a new club — albeit a practice device. (More on this to follow.) But the big story was not so much people or equipment. Instead, it was...
The Ryder Cup!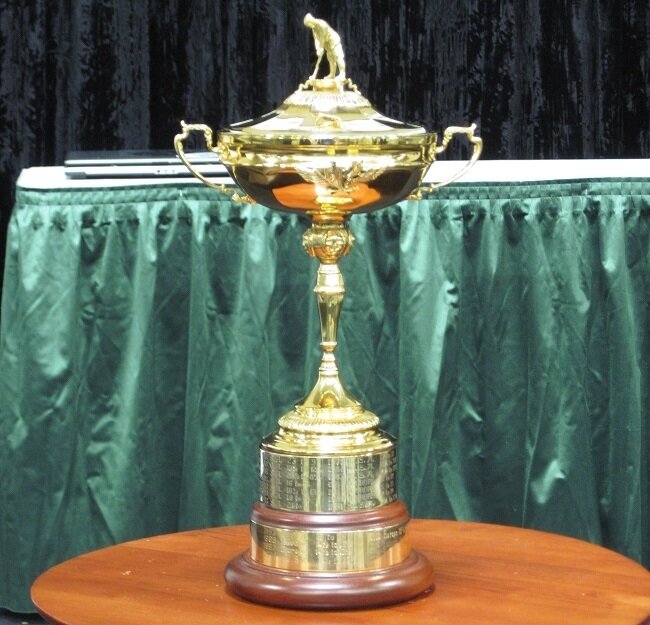 Photographs do
not
do justice to this lovely trophy. It was on display for several hours at the golf show on Friday afternoon.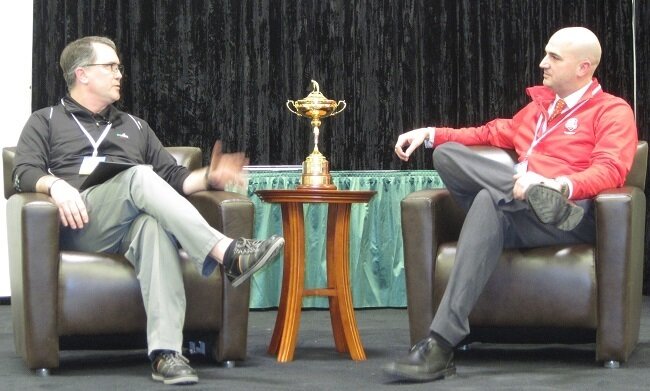 GolfTEC regional manager Jim McNaney (lucky so-and-so) interviewed 2016 Ryder Cup Director Jeff Hintz of the PGA of America — with the Ryder Cup itself on display for all to see.
During Q&A, I asked Hintz about whether or not the PGA of America would take a page from the NHL, Major League Baseball, and the NFL, by holding a Ryder Cup-flavored show or expo. This would be especially nice for fans who are not lucky enough to get tickets for the actual event at Hazeltine National Golf Club. And while Hintz could not make any promises, he did say that the PGA of America's Ryder Cup team and senior leadership are looking at this sort of event, so those of us who are unlikely to get tickets can, at least, get an up-close look at the trophy.
Mr. Hintz is making no mistakes during his appearances. Check out his necktie: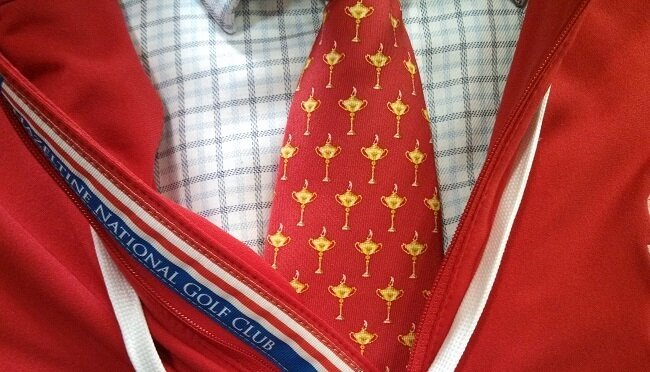 A better-fitting ball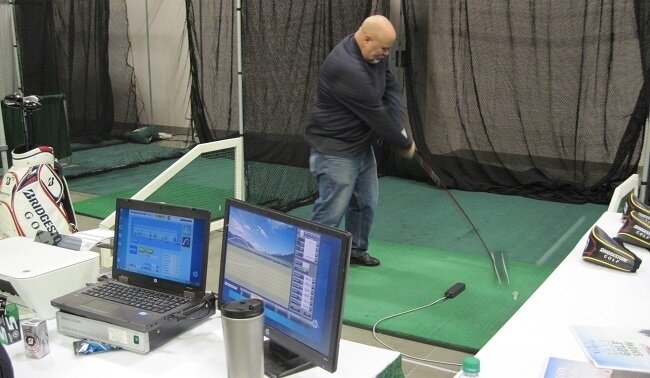 One of the most popular exhibits at the show was the Bridgestone Golf ball-fitting booth. Attendees such as Jon Heyer (
above
) took several swings with their usual brand-name pellet, then were custom-fitted for a ball that would take the best advantage of each person's swing-speed and ball-speed...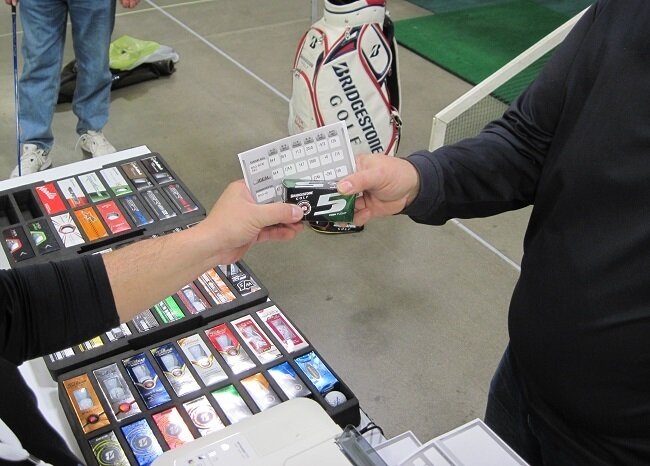 ...and received a printout with their statistics and a two-pack of the recommended Bridgestone golf ball.
Papa's Got a Brand New Bag
Most of you who are fans of baseball and American football remember the
Metrodome
, the late-but-not-lamented home of the Minnesota Twins and Minnesota Vikings. The dome roof infamously collapsed at about 5:00 a.m. on December 12, 2010:
Now, a fellow named Timothy O'Phelan has created some
very
sharp and stylish travel bags made of actual waterproof Teflon (along with very durable leather handles and accents) from the actual Metrodome roof material — handcrafted in Minnesota, of course: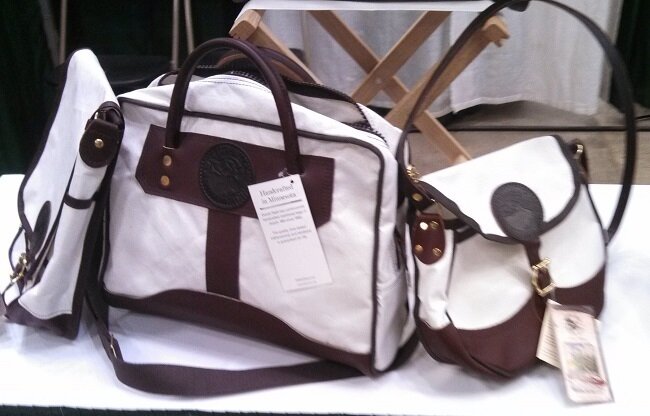 Also available are some really attractive travel bags created from the old "baggie" curtain in right field: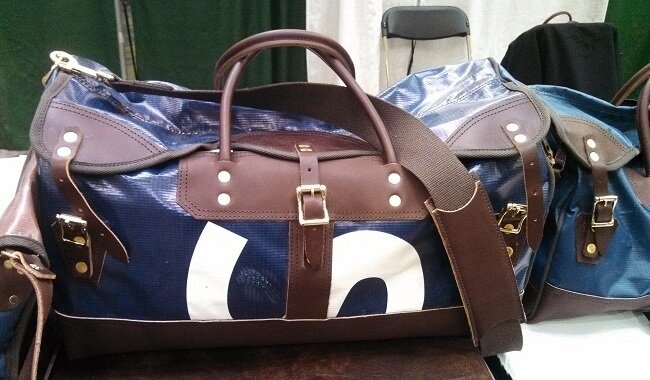 You can peruse and purchase your own "Domer Bag" online at
ExceptionalBags.com
. Because of very obviously limited quantities, when these bags are sold out, they are sold out forever.
Big help from The Little One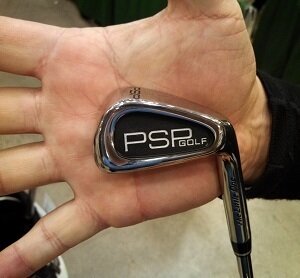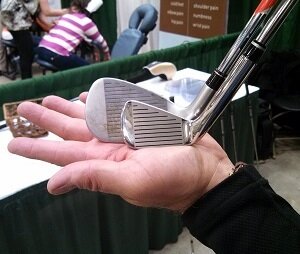 Also at the show were the people from
Pure Solid Perfect Golf
. PSP Golf are becoming known for their "Little One," demonstrated in the pictures above by founding CEO Dan Bonomo. The Little ONe is a practice club with a face that is
40% smaller
than a traditional 7-iron. The concept is both simple and elegant: Practicing with a smaller club-head and a smaller sweet spot forces you to make more consistent and accurate swings.
PGA of America teaching pro
Todd Kolb
shows how it works:
Equipment nirvana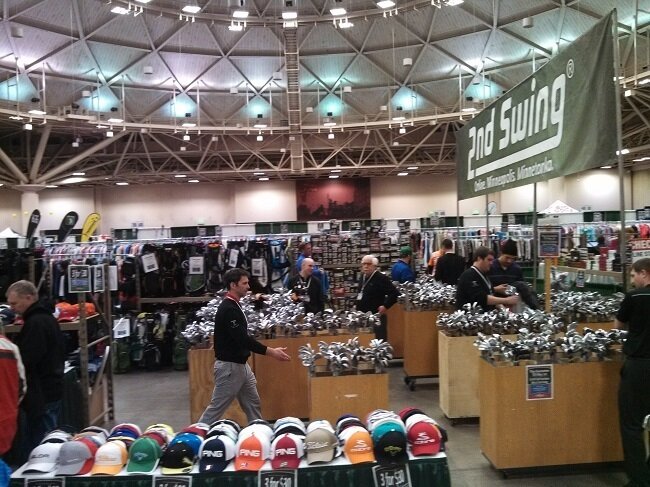 The largest equipment store on the floor was from
2nd Swing
, which includes a large online operation, along with two Twin Cities-area stores. Their specialty is new and used clubs, but they also have several hundred rare and in-demand discontinued items, as well.
Sooch!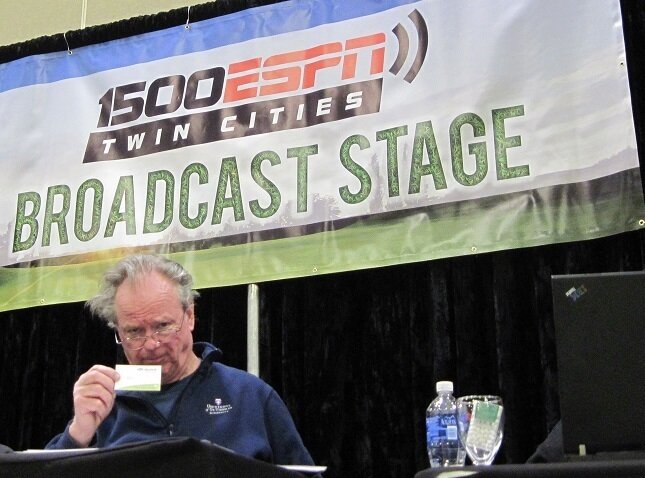 Confirmed golf nut Joe Soucheray, host of "
Garage Logic
" on
1500 ESPN
made his usual appearance. The former sportswriter and longtime
columnist for the Saint Paul Pioneer Press
is a Friday fixture at these shows.
Have you seen an interesting golf story? Tell us about it!
All photographs by Torleif Sorenson, except as indicated
likemoney2017 says:
L.A. native Aimee Track of Tune
Replica Handbags
of Style started blogging in 2008. In addition to blogging, she is additionally an Indoor Designer. Aimee takes a trip a lot and also she is mostly seen in shoulder/crossbody bags from Celine, Chloe, Saint Laurent, Chanel and Proenza Schouler. A few of her bags consists of the Celine Standard Box Bag which costs $3,900.00 (USD) for the Medium size and also the
replica louis vuitton
Petite Malle Malletage Bag which retails for $5,500.00 (USD).Wendy Nguyen is the owner of the blog site Wendy's Lookbook. She additionally has a YouTube network with the very same name, with video clips having more than hundred thousand sights. Her most preferred video clip "25 Ways to Wear a
uk replica handbags
Scarf in 4.5 Minutes!" gained greater than 30 Million views. Wendy's style is timeless and also chic, Chanel flap bags are typic
1/25/18
ahmedraza1001 says:
I am a new user of this site so here i saw multiple articles and posts posted by this site,I curious more interest in some of them hope you will give more information on this topics in your next articles.
virtual phone singapore
6/8/19
ahmedraza1001 says:
It should be noted that whilst ordering papers for sale at paper writing service, you can get unkind attitude. In case you feel that the bureau is trying to cheat you, don't buy term paper from it.
Movers
7/15/19
ahmedraza1001 says:
Regular visits listed here are the easiest method to appreciate your energy, which is why why I am going to the website everyday, searching for new, interesting info. Many, thank you!
바카라사이트
Thursday