In the last couple of days, an enormous alligator has taken up residence at
Myakka Pines Golf Club
in Englewood, Florida, near Sarasota and Bradenton. The photographs below were taken by club members Dick Huber and Bill Susie, and posted on the
club's Facebook page
. Since then, the photographs have gone viral, across the entire nation.
As far as we know, nobody at the club has given a name to this gigantic beast, so we at SkyGolf wish to call it "GatorZilla."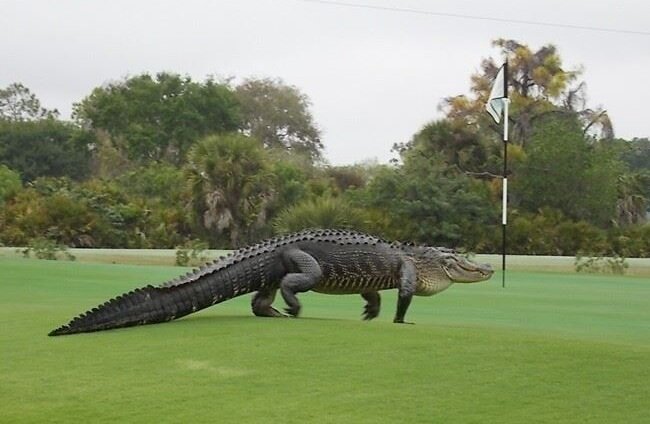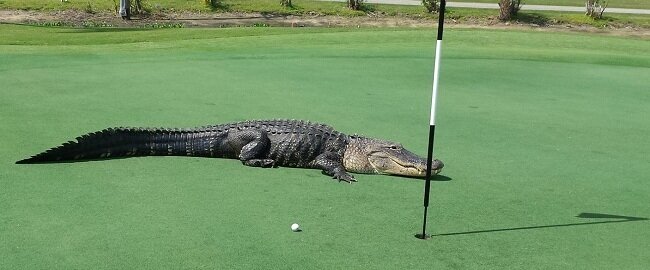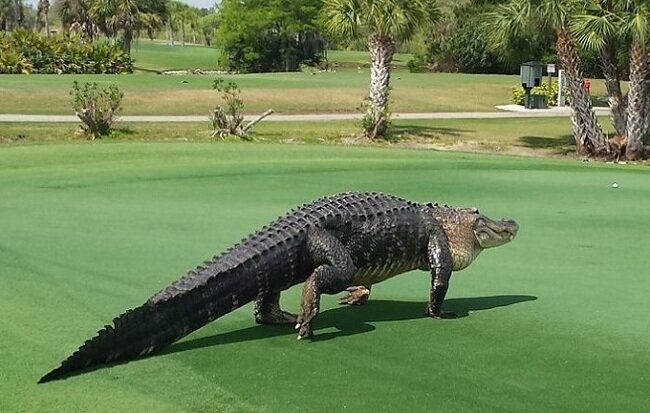 We at SkyGolf would be quite skittish is we saw this Brobdingnagian beast on
any
golf course. Frankly, we think "GatorZilla" belongs at
Sarasota Jungle Gardens
, instead.
We hereby offer a huge hat-tip to photographers Dick Huber and Bill Susie, who either used
really
long telephoto lenses, or shot these pictures from a U.S. Army armored personnel carrier.
Or, they were just crazy and insane enough to shoot these from a less-substantial vehicle and weren't afraid of being eaten alive.
How brave are YOU?
Chime in on our
SkyGolf 360 poll
and tell us how close YOU would get to "GatorZilla."
Have you seen an interesting golf story? Tell us about it!
Images via Myakka Pines Golf Club

bkuehn1952 says:
I sneer at danger! Looks to me like a nice pair of boots and a belt.
3/11/15
jasonfish11 says:
Its funny hearing you people that haven't spent much time in FL.
Gators really are pretty docile as long as you stay away from their nest. They just look bad. Dont get me wrong I wouldn't walk up to the business end of one but if you come up from their side or behind them you can easily get them off the green with your driver.
But gators of this size are everywhere in FL. Looks to be 8-10' he's on the bigger end of things but when I lived there I saw 1-2 a year on golf courses that big.
3/12/15

Torleif Sorenson says:
See, this is the perspective we non-Floridians need. As long as big fellas like "GatorZilla" are slow to react, then I suppose Vikings and Nordiques like me would be less spooked.
3/12/15
GBOGEY says:
I never go near these things. I saw on National Geographic that a gator can outrun a man for 50 yards - that was enough for me.
3/12/15
jasonfish11 says:
Also I saw an article that they think the gator is 12-15' long. Lol that is only true if that putt is a 4' putt.
Looks to me that the putt is 2-3' and is about 1/4 the length of the gator. Must have been a woman guessing the size of the gator, I'm sure her husband has been lying to her forever about what 6" looks like so she probably isn't a reliable source for size estimation.
3/12/15
isiacristian18 says:
Visit Sarasota Jungle Gardens. They have a great exhibit of animals and excellent shows. The reptile show is one of my favorites. You'll get to see a boa constrictor and an alligator. After the show, you can hold the alligator and take a picture with it.
can someone do my essay
5/11/18