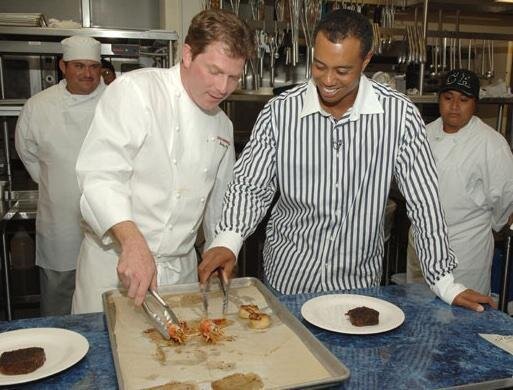 Tiger Woods is pictured here with celebrity chef Bobby Flay.
OK, world, you can breathe easy again. We may live in a highly litigious society, but restaurateur Nicholas S. Mastrioianni II inadvertently touched off a kerfuffle over the use of Tiger Woods's name.
Mastroianni is the man building the $8 million restaurant to be called (deep breath, now) "The Woods Jupiter: Sports and Dining Club" in Jupiter, Florida. But
he was told
by a still-unidentified person that Nike owns the rights to the name Tiger Woods. As such, this somehow prevented Woods from using his first and last name together in the already-cumbersome restaurant name.
Worse yet,
Golf Magazine
reported on March 6 that Mastroianni "said that anytime he wants to use Woods's name in a press release or anything similar he needs permission from Woods's business people."
"It's over the top," the restaurateur was quoted by writer Michael Bamberger as saying.
Here I Come To Save The Daaaaaay
Entering the scene on his jurisprudential stallion is Tiger Woods's agent and manager, Mark Steinberg.
According to Golf Channel
, the experienced attorney knocked down the story:
"I can't imagine how this could have been communicated this way. It is wholly inaccurate and categorically false. Tiger owns his own name and always had. He can use his name in any form he chooses. Nike would confirm that if asked."
Indeed, an unnamed Nike spokeswoman said as much just hours later.
No opening date for the restaurant is yet available; Bamberger reported that the town of Jupiter "has a reputation for being deliberate in the permitting process."
Have you seen an interesting golf story? Tell us about it!
Image via Twitter
jasonfish11 says:
Should rename it to "F@!% Perkins. No seriously"
3/13/15

bkuehn1952 says:
Can't wait to eat over-priced mediocre food with silly names.
"I'll have the El Tigre Nachos, an Open Rough Salad and a Tiger Slam Cocktail"
Other than the fact that Tiger has eaten in a restaurant, what special touch does he bring to the world of food?
3/13/15

Torleif Sorenson says:
@NBEB: I'm with you! If I suddenly came into a lot of money, a restaurant would be one of the *last* things I would ever try. Even if it involved my favorite cuisine, somehow the idea of "Tor's Italian Ristorante"
just
doesn't quite ring with authenticity.
3/13/15
jasonfish11 says:
Oh come on he knows restaurants inside and out... Oh wait that is waitresses.
3/13/15