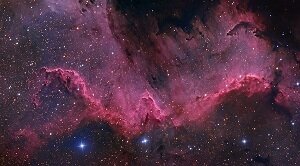 Make sure you visit NASA's
Astronomy Picture of the Day
page today, or dive into their archive and pull up the March 12, 2015 image. That's because the photographer who captured the image titled "Along the Cygnus Wall" is none other than PGA Tour and Ryder Cup star Jimmy Walker.
To have a photograph be selected for inclusion on NASA's APOD blog is a rare honor. But as John Strege of
Golf Digest
reports, Walker's work has now been
featured on APOD for the fifth time
.
Robert J. Nemiroff, PhD
is a professor of physics at Michigan Technological University — and also the co-creator and editor of NASA's APOD web page. Dr. Nemiroff told Strege of Walker's impressive APOD track record:
"Jimmy Walker's had, let's see, five [photographs] published so far. That's pretty good. We've had people with more. He's not the most published. We've had people with 30, so I hadn't recognized him as someone who had really stood out in my mind.

"But today's picture is very good. It shows a lot of expertise. He has to know what he's doing."
When Strege asked Nemiroff how rare it is to be published on the APOD blog, the professor confirmed that it is very difficult, indeed:
"One has to be a pretty good astrophotographer. It's pretty competitive. Some people consider it like winning an award. We get photographs from the Hubble Space Telescope, major observatories, the Saturn [Cassini Mission]. We try to choose the best images. So he's in pretty elite company."
For the 13th-ranked player in the Official World Golf Ranking to stand out in the fields of astronomy and physics is monumentally cool.
Last year,
we told you
about Walker's interest in astro-photography, which even includes an endorsement deal with Celestron Telescopes:
Jimmy Walker, we tip our proverbial hat to you, sir.
Kudos also to John Strege for giving us an enjoyable update on one of the more impressive people in professional golf.
Have you seen an interesting golf story? Tell us about it!
Image via apod.nasa.gov

bkuehn1952 says:
Now all he needs to do is contact the "Star Registry" and name a start after himself, which will be recorded in book fashion and stored on Funk & Wagnel's porch.
3/17/15
inactive_574184391244335 says:
google
[url=https://www.google.com/]google[/url]
5/16/19