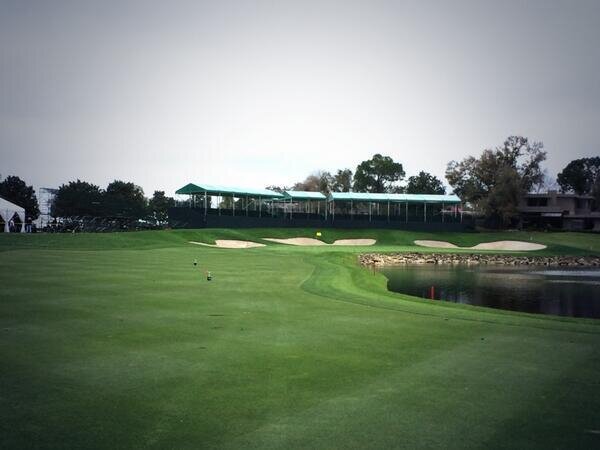 This phot of the 18th at Bay Hill was taken by LPGA Tour player Ryann O'Toole.
The Emerald Dwarf Bermuda grass used on the greens at Bay Hill will be replaced this summer.
Bay Hill Club & Lodge
, the host site of the PGA Tour's Arnold Palmer Invitational, will be closed this summer for a remodeling of the green complexes. The greens will be changed from Emerald Dwarf Bermuda to TifEagle Bermuda.
And apparently, the change cannot come too soon.
We are sure that nobody playing in the tournament would ever tell Mr. Palmer directly about problems with the greens, but press reports have included several anonymous comments that aren't at all complimentary.
Among the descriptions of the greens at Bay Hill this week are that they are "shaggy," "a comb-over," and that some portions of a few greens are flat-out muddy.
"Speed may be a bit of an issue," said one player to
GolfWeek
's Alex Miceli.
Interestingly, Miceli pointed out that Mr. Palmer complimented the use of Emerald Dwarf Bermuda just before the 2010 API:
"We feel that we have really made a good change. We know that the people who have been playing it are very pleased with it, and the pros that have come in through the period of time that it's been open have been very complimentary."
Times change — and now, so will the greens.
Have you seen an interesting golf story? Tell us about it!
Image via Twitter, Ryann O'Toole
Hat-tip: Alex Miceli

bkuehn1952 says:
Since Arnold Palmer owns the course & resort, presumably he can do whatever he wants. If I were an equity member and was faced with an assessment, this type of activity would have me steaming. Changing out all the greens in 2010 and then again in 2015 is over the top for most of us. Of course, I am never going to be invited to join so carry on Mr. Palmer.
3/18/15