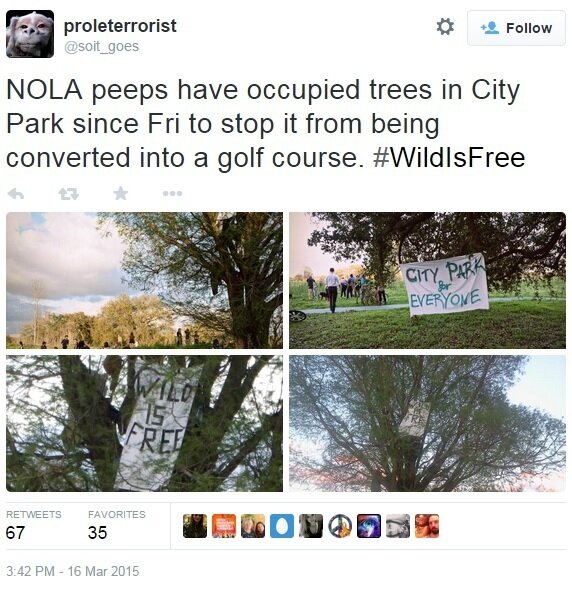 The City of New Orleans has retained architect Rees Jones ("The Open Doctor") for the design of the new championship-caliber
South Course at City Park
. It will play over land that was once home to City Park's East and West golf courses, both of which were wiped out in Hurricane Katrina in 2005. Construction has begun on the new public-access course, which was approved by FEMA and is being spearheaded by the
Bayou District Foundation
as part of ongoing renewal projects in the New Orleans area. Among the first stages of construction is the clearing of weeds and overgrowth, while preserving more than 6,000 trees that the city planted following Katrina.
But none of these facts matter to Jonathan "Lloyd" Boover, a would-be Mensa candidate who
decided on March 13
that it would be really intelligent to trespass and occupy a tree inside the fenced-off construction zone. Further sign of his overwhelming brain-power was to display a makeshift bedsheet banner simply saying, "Wild Is Free." A friend of Boover's named Twila Hoyle dutifully informed the
New Orleans Times-Picayune
that he was occupying the tree because "it's something he has to do for his spirit." Whilst occupying the tree in question, Boover kept a waiting world informed of his struggle via Facebook posts from a mobile phone with an environmentally-correct solar-powered charger.
City Park CEO Bob Becker explained the consequences to New Orleans television station WWL-DT:
"Unfortunately, Mr. Boover chose to interfere in the construction of the golf course after a private contractor was selected in a competitive process and received approval to proceed according to the laws of the city and state in accordance with the agreements to complete work according to the terms of its contract.

"He broke the law and now becomes the subject of civil and criminal action."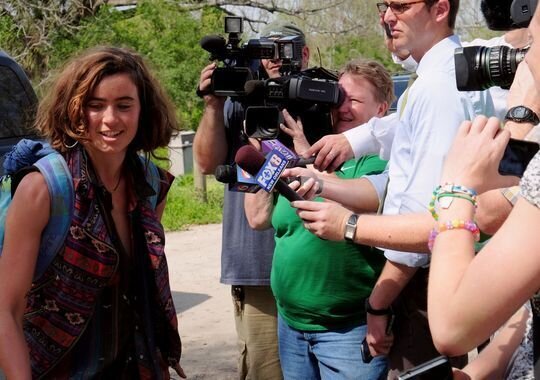 Another towering titan of intellect — a woman calling herself "Heart" (
above
) joined Boover in the tree on Tuesday, March 13. But alas, Heart didn't have the heart to stay in the tree for more than a few hours.
On Tuesday morning, March 24, a fellow by the name of Christopher Lane, representing "City Park for Everyone Coalition,"
said
that Boover apparently may not have eaten in a day and was disoriented from a lack of sleep. The
Times-Picayune
opined that Boover had run short of supplies. Whatever the case, the "Occupy Tree" protest ended in a "Boover Blooper."
Just before 11:00 a.m., a friend named Marilyn Eyer inadvertently triggered the end by waving to Boover and saying, "Hi, Lloyd."
Boover waved back — and promptly fell out of the tree.
The bearded miscreant tried to scramble back up the tree, but was later taken to a local hospital, reportedly with a broken ankle and a broken nose. (
We will reserve comment about Boover's possible dain bramage.
) Whenever Boover is released from
LSU Interim Hospital
, sheriff's deputies are likely to charge Boover with trespassing.
We at SkyGolf are
profoundly
sad to report that no video footage of Boover's fall from grace is available. So, in our humble efforts to hypothesize how the scene may have transpired, we humbly offer for your consumption this clip from
The Late Late Show
with Craig Kilborn, circa February of 2001:
We hope Mr. Boover has a safe recovery — and a pleasant stay at an area jail.
Above all, we are looking forward to Mr. Jones' public-access course being unveiled in a couple of years. The residents of New Orleans certainly deserve it.
Have you seen an interesting golf story? Tell us about it!
Images via Twitter, Laura Borealis
Vishal23 says:
Hey, If you are here to
play spider solitaire free
games so here we are having one of the best platform where you can enjoy classic cards game in the best quality at different levels. Try out for once.
10/5/18
win2888co says:
Tinycat99 hiện tại là nha cai uy tin và mạnh nhất khu vực Đông Nam Á nhà cái tinycat99 chính thức phát triển và mở rộng trên 2 quốc gia Việt Nam - Campuchia từ năm 2013, được pháp luật Campuchia cấp giấy phép kinh doanh và bảo hộ

Website đại lý chính thức: tinycat99
Hướng dẫn dang ky tinycat99
2/17/20