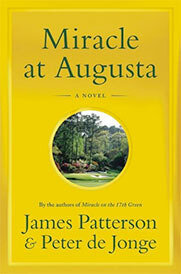 Miracle at Augusta
by James Patterson and Peter de Jonge
Little, Brown and Company
ISBN: 978-0-316-41097-7
US $26.00
240 pages
FROM THE PUBLISHER:
"A year ago, Travis McKinley, an unknown golfing amateur, shocked the world by winning the PGA Senior Open at Pebble Beach. Now he's famous, he makes his living playing the game he loves, and everything should be perfect. Still Travis can't shake the feeling that he's a fraud, an imposter who doesn't deserve his success - and after a series of disappointments and, to be honest, personal screw-ups, he might just prove himself right.

"A shot at redemption arrives in an unexpected form: a teenage outcast with troubles of his own - and a natural golf swing. As this unlikely duo sets out to achieve the impossible on the world's most revered golf course, Travis is about to learn that sometimes the greatest miracles of all take place when no one is watching."
_____
If you were watching ancillary coverage of the Masters Tournament on Golf Channel or ESPN this weekend, you may have seen the commercial for the latest golf-flavored novel by the author
James Patterson
,
Miracle at Augusta
. The book stands as a follow-up to the 1996 novel
Miracle on the 17th Green
, which was also a collaboration with Peter de Jonge.
If you have not read any of Patterson's other books, well... join the club.
Miracle at Augusta
is this writer's first time with any of Patterson's writing. The 68-year-old resident of Florida has become known for several series of books, perhaps most notably the
Alex Cross
oeuvre.
In this case, the protagonist is Travis McKinley, advertised on the book cover and in marketing as the "PGA Senior Open" winner, but in the story, Patterson explains that the character actually won the U.S. Senior Open which, as most of us know, is one of the USGA national championships. Obviously, the Little, Brown and Company marketing staff felt it necessary to insert "PGA" to clarify things for non-golfers.
At any rate, this breezy read is a fictional memoir and not intended to be anything deep, introspective, or serious,
a la
M. Scott Peck's
Golf and the Spirit
. Instead,
Miracle at Augusta
is set in 1998 and features not only some real-world tournaments, but also a blend of colorful fictional characters, such as Hank "Stump" Peters, who winds up defeating McKinley at the Azawa Open, a fictional senior tour event at the very real
Waialae Country Club
in Hawaii. After the tournament, the pretense for the story involves McKinley getting suspended after a fight at a Honolulu-area dive called the Ding Dong Lounge, followed by McKinley decided to caddie for another senior circuit player, Earl Fielder.
Patterson's grasp of reality here is so good that he even injects David Letterman making some of his usual lame jokes on television, referring to the "Ding Dong" brawl. A nice touch, indeed.
Throughout the text, Patterson and de Jonge pleasantly blend in other fictional characters with real-world personalities, such as Mark O'Meara, Lee Trevino, Hale Irwin, Gil Morgan, Gary McCord, PGA Tour commissioner Tim Finchem, and even then-Augusta National Golf Club chairman Hootie Johnson.
Interestingly, the
chief
protagonist is not McKinley, but instead a gangling teenage Polish-born immigrant, Jerzy Solarski, whom McKinley mentors and takes to Augusta, along with a crew of co-conspirators, with the aim of sneaking him onto Augusta National for a secret practice round.
We won't spoil the story, but Patterson and de Jonge seem to have done a nice job of mixing fairly realistic golf dialog (intended for readers not familiar with golf) with a golf scenario that is a bit too fantastic to be taken seriously, but nevertheless makes for some fun and interesting reading.
Your humble correspondent plans to re-read the book again for enjoyment. Just understand that this is meant to be fun and not nearly as detailed and realistic as, say, John Feinstein's 1996 tome
A Good Walk Spoiled
. On the other hand, this is not nearly as ridiculous as Ben Crane's rap videos.
One measure of a good book is not so much what we read, but rather what we
re-read
. Not only will we re-read
Miracle at Augusta
, but we also plan to dig through the bookshelves and try out Patterson and de Jonge's
Miracle at the 17th Green
.
James Patterson's web site
Peter de Jonge's page at HarperCollins
Have you seen an interesting golf story? Tell us about it!
Image via JamesPatterson.com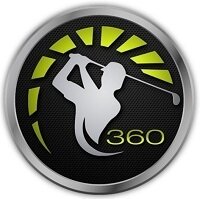 himanshuarya says:
Extremely classic article must read it and play one of the most popular video game
free online happy wheels
video game it is the multiplayer video game the challenges of the game is to get victory over your challenger.
1/16/18
CliftonDuBuque says:
I really appreciate him for writing the book about his game experiences. According to the
rush essay review
, it reveals many things about the game. I really want to buy this book.
3/6/18