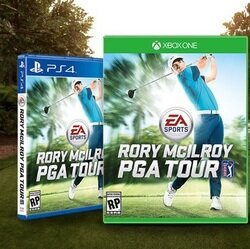 For those of you who play video games, EA Sports announced on Thursday that the latest edition of
PGA Tour
is now scheduled to hit the market on July 14.
In a post at GolfChannel.com, Nick Menta
reports
that EA's release of the game has been delayed twice; it was originally scheduled to be available in March, then was delayed until June. Menta says that EA needed extra time to...
"allow[s] us to deliver a fully-featured online offering including online tournaments."
In March,
we shared with you
a preview of the game's Frostbite technology, as well as the fact that Rory McIlroy was the new cover boy, replacing Tiger Woods — a detail that turned into an interesting gossip bit.
Menta also reports that new Masters champion Jordan Spieth will be the game's second playable character, and that TPC Sawgrass, Wolf Creek, and Royal Troon will be included in the video game.
On Thursday, EA Sports also released this new preview trailer:
The programming includes some added realism in that Florida courses like TPC Sawgrass will play softer, with less ball-roll after landing. In contrast, links courses like Royal Troon are programmed with harder fairways, so that the ball will roll further after landing.
The trailer also illustrates that different levels of play will be available; the most difficult and realistic level denies the user an up-close preview of the green, so that you have to refer to the on-screen yardage guide for tips on how to play the hole — just like the real world.
Rory McIlroy PGA Tour is
available for pre-order
from EA Sports.
The graphics and features definitely look realistic and intriguing — so much so that this writer almost wishes he had time to play video games.
Have you seen an interesting golf story? Tell us about it!
Image via EA Sports