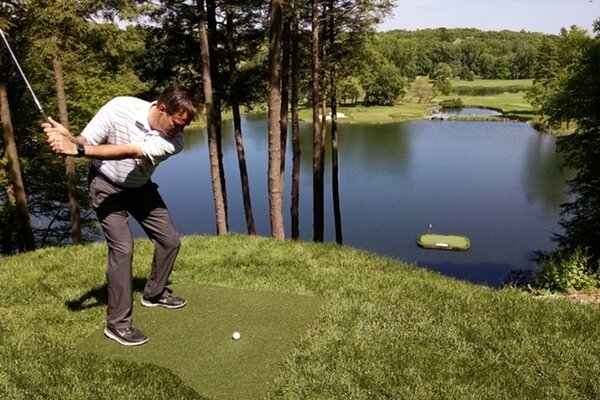 GlenArbor's head pro Brian Crowell, PGA takes aim at the 19th hole. The lucky so-and-so.
Westchester County in the state of New York is home to a variety of private golf clubs, some rather exclusive. But
GlenArbor Golf Club
head professional
Brian Crowell, PGA
and fellow golf addict Michael Lehrer have ratcheted up things in their neighborhood. The golf pro and the owner of
Home Green Advantage
(a clever play on hockey terminology) decided that an island green at GlenArbor would be a great idea. (Of course, it *is* a great idea.
All
on-course 19th greens are great ideas.)
And as New York-based golf writer Dave Donelson of
Westchester Magazine
reports
, they set about designing and getting the green constructed. The final result is modeled on GlenArbor's 14th green, but Lehrer went out of his way to make it more receptive, so that golfers have a decent chance of keeping the ball on the surface.
Lehrer (a former CPA) and his company have designed and installed over 500 artificial putting greens (some including
sand bunkers
!) in
residential
and
commercial
settings — even on
the roof of Trump Tower City Center
. The man knows what he is doing. And yet...
"I have to admit, it's one of the more unusual projects we've undertaken. We had a lot of fun with it."
No kidding. And this is coming from a man has overseen installation of several roof-top putting greens: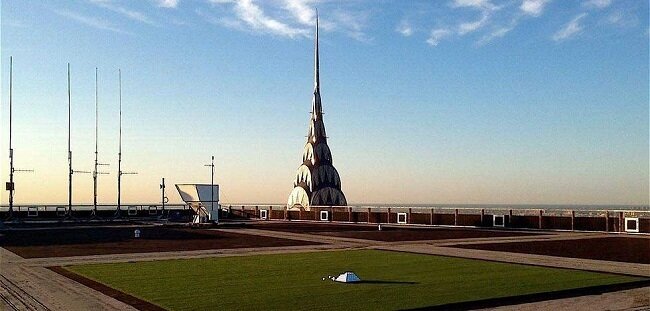 Yes, that *is* New York's iconic Chrysler Building in the background.
But as Donelson noted in his article, the responsibility for retrieving dunked golf balls from the lake at GlenArbor had not been delegated by the time his article went to press.
(Will the club have to hire a Chief SCUBA Specialist? Chief Diver?
Shark Bait
?)
We may never have the privilege of being invited to play at GlenArbor, but if we did, we would not only enjoy their challenging course (a Gary Player & Tim Freeland design collaboration), but certainly also a shot at the 19th hole.
Dave Donelson's article
Have you seen an interesting golf story? Tell us about it!
Images via Twitter, Home Green Advantage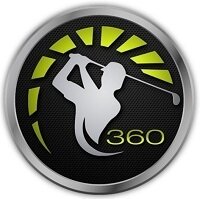 DougEly says:
Since this is SkyGolf, can I get a distance to the front, back and center please? ;-)
6/1/15
ally1957 says:
what no lay up
bet he didn't walk that hole
6/1/15
ally1957 says:
looks a bit of a so n so, if your left handed
6/1/15

bkuehn1952 says:
Hey, you just hit the 3rd brand new ProV1 into the water trying to hit the 19th green! Why are you smiling?
I took the balls from your bag.
6/1/15
mehreensiddique says:
I found your this post while searching for some related information on blog search...Its a good post..keep posting and update the information.
click here
6/4/21