On Saturday morning at 11:52 a.m. PDT on Golf Channel, the otherwise knowledgeable and listenable analyst Frank Nobilo uttered two words that grated on the ears of golf fans everywhere — female fans especially.
He said that in the today's round of the 2015 U.S. Open, the 17th hole would be played from the
ladies' tees
.
Mr. Nobilo, we really like you. We deeply respect your knowledge and experience. But they are NOT the "ladies' tees." They are the
forward tees
or
front tees
. Women should never be artificially expected (nor forced) to be restricted to any particular set of tee-boxes.
Please.
Women and men alike have been trying to disabuse the rest of the world of using that sexist term. Unfortunately for some people, for many golf course owners, and even for some national golf federations... old and ugly habits die hard.
People everywhere, from individual golfers to organizations like the Oregon Golf Association and the
Executive Women's Golf Association
, are doing whatever they can to tear down the old stereotypes. This is not for the sake of political correctness (an entirely different and faulty concept), but simply for the sake of accuracy, honesty, and not acting like a bunch of knuckle-dragging shlubs.
The problem is that for decades, across the world — especially in North America, the United Kingdom, and Éire — the front set of tees at thousands of golf courses have been colored red. Even worse,
England Golf
have institutionalized red tees exclusively for women, with white and yellow exclusively for men within their jurisdiction.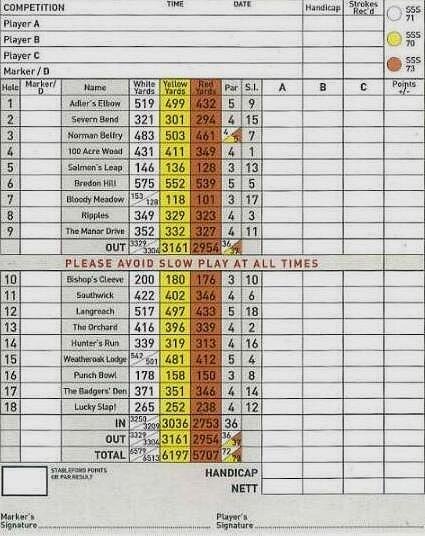 Ugh.
England Golf also have yet to replace their archaic "standard scratch score" (SSS) system of computing the difficulty of golf courses, when more and more of the world's national golf federations have deployed various versions of the USGA's course rating and slope system. The happy exception is that more and more courses across England are being sloped-and-rated for women according to the USGA system.
It is in the United States that the trend has slowly-but-surely been changing, with more and more courses and managers ditching old-fashioned ideas about tee-box colors. One example is
Golf Club of Estrella
in Goodyear, Arizona.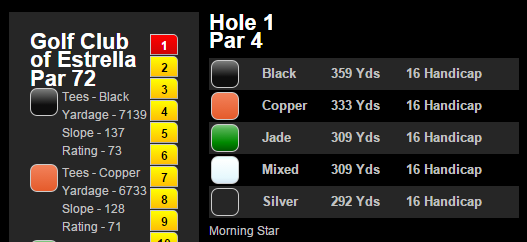 And while
Stanford University Golf Club
has stuck with standard colors, they have turned them upside-down: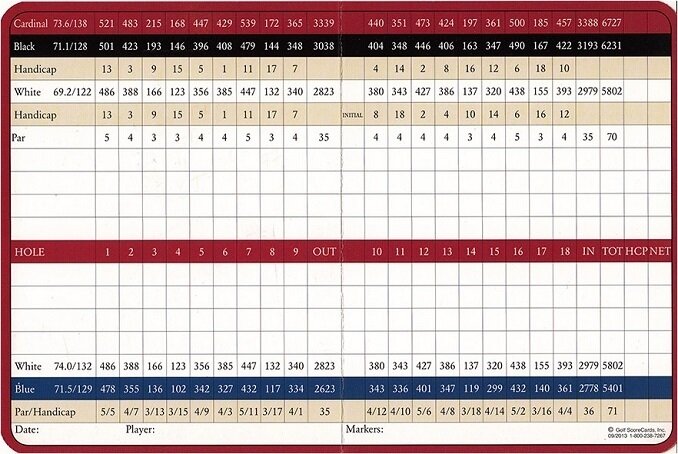 In Las Cruces, the
golf course at New Mexico State University
not only flipped the colors (in part for branding purposes), they followed a trend of non-sexist tee-box names: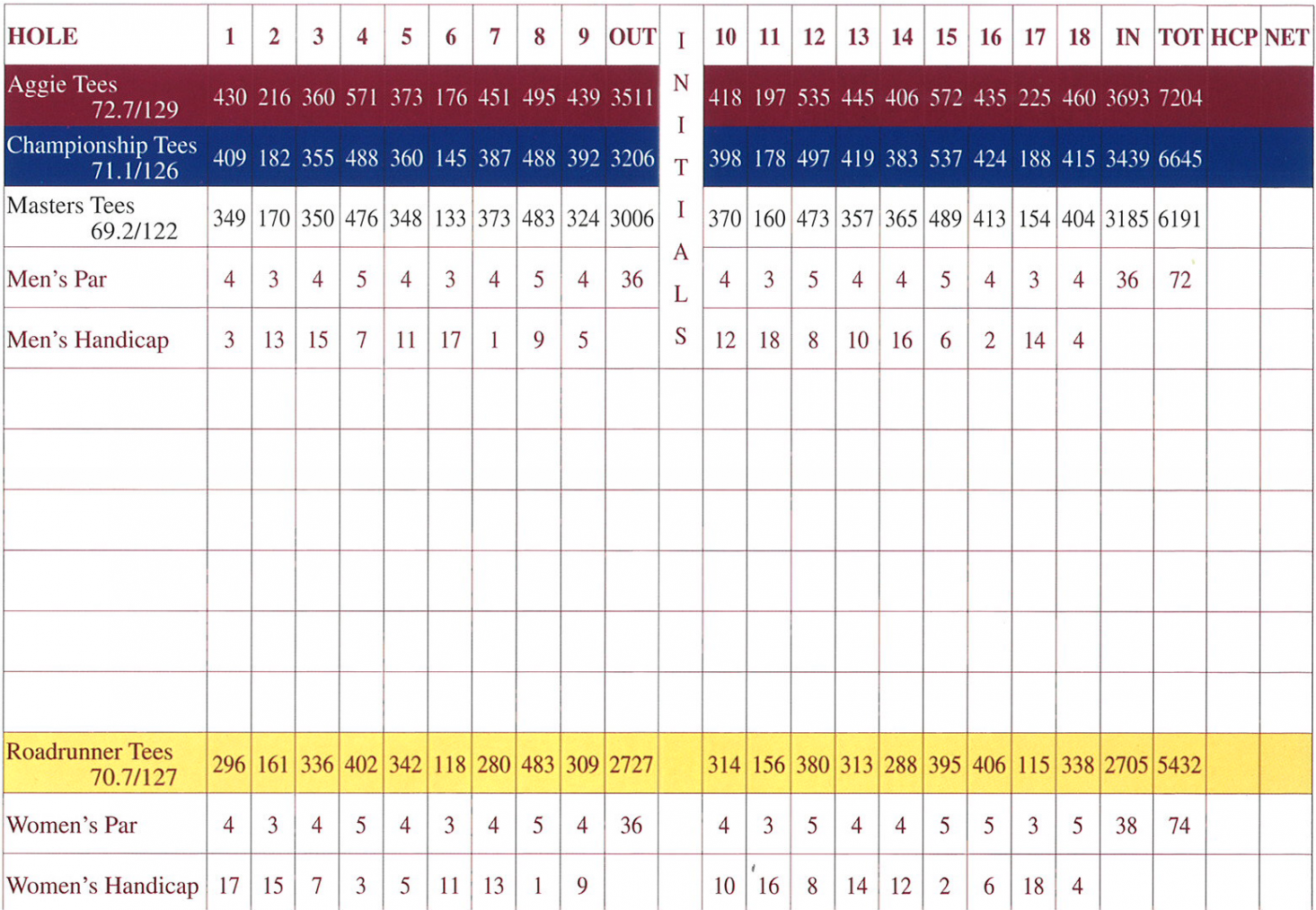 The USGA and various state, provincial, and regional golf association course raters have lately been rating several sets of tees for women, as well as including men's slope-and-ratings for even the most forward sets of tees at courses.
The fact that, by and large, women generally do not hit the ball as long as men is increasingly irrelevant. In this era, when we are trying to attract more women and girls to the game we all love, the last thing we need is sexist terminology.
To the likable
Frank Nobilo
: Please, sir — if you can adjust to driving on the right side of the road in the United States, you can stop calling them the "ladies' tees."
And if your humble correspondent happens to hear some guy refer to the "ladies' tees," I confess that I will be sorely tempted to administer a "bad Leonard" to them:
Have you seen an interesting golf story? Tell us about it!
Image via Twitter, Tewkesbury Park GC, GC of Estrella, Stanford University Golf Club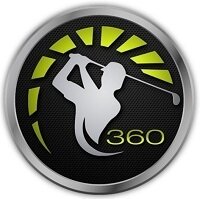 bkuehn1952 says:
They may call the most forward tee the "Roadrunner" tee at NMSU. The problem is that it is only rated for women. Courses need to rate all tees for both women and men. Until the forward tees are rated, they are only going to be used my women and players who are not planning to post the score for handicap.
6/21/15
ally1957 says:
how come everyone want equality when it benefits them. You may not like what they call them but the cards still and proberbly always will group the shorter tee at the bottom of the card. My group were talking in the clubhouse a week or so ago and I said the the tee you should use was determined by handicap not by gender or wether you were playing in a competion or not. Though I am pretty certain that if the better (and by better I mean longer) lady players were suddenly told that in competions the had to play of the yellow tees which would add 900 yards to their round they would shouting how unfair it is. Even when the LPGA play a shorter course. If they are objecting to the label, then what do you suggest for the toilets in buildings.
6/22/15

Torleif Sorenson says:
NBEB: You're absolutely right. In the case of NMSU, they need to do the ratings for men and for women. But as I indicated in the article, more and more courses and state GAs are getting better about this.
An acquaintance of mine read the article and shortly thereafter, admitted to me that he occasionally makes the mistake and said he needs to get better about it.
One woman who works with my financial advisor played big-time Division I golf at a Big Ten school back in the day. Until she gave birth to twins, she was so good that if you put her against your average guy from the tips at most any public course, she could wax him like a pair of skis.
6/23/15
divyaom31194 says:
Here i am posting the link address of online video converter which helps the users to change the format and watch the videos in their
how to convert youtube videos to mp3
own language,i know after get this features you send me your best feedback too.
5/18/18
bibegipox says:
logmein123
logmein123 console download
logmein123 cost
logmein123 customer code
logmein123 desktop app
logmein123 dotcom
8/9/18