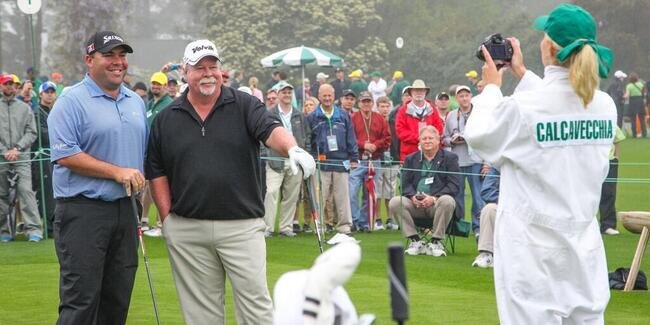 When Kevin Stadler won the Phoenix Open in February, he earned his first playing berth in the Masters Tournament. And since his father, Craig, was the 1982 Masters champion, the two will become the 12th second-generation player to have competed in The Masters. However, this will be the first time that a father and son have competed in the
same
Masters Tournament.
And aside from needling Kevin over his
unusual entry into the press center
on Monday, the elder Stads fairly beamed with pride when fielding questions from the assembled scribes and ink-stained wretches:
"He's become just a wonderfully consistent player and has his own identity and everything else, which he should. He's worked hard for it and he's earned it. Good for him, and I'm just going to kind of stand on the sidelines and watch, which is all I want to do, and just be supportive and root him on and hope more 'Phoenixes' happen in the future. A lot more."
Further, as the AP's Paul Newberry reports, Craig would not be surprised if Kevin won in his first try:
"That's why I actually love his game for this golf course. You do have to hit the ball high with the irons a little bit. And as far as I'm concerned, and he might disagree, but I think he's just a wonderful iron player. I think that's definitely the strength of his game, and having your iron game down here makes this course so much easier.

"Thanks to Kev here, I got back to the press room for the first time in about 20 years. I'm so proud of the way he's played the last three, four years. He's been close a zillion times and finally got it done, so it's a very special week."
Sadly, the tournament committee at Augusta National has failed to put father-and-son in the same group. The
pairings list
shows that on Thursday, Kevin Stadler will go off at 7:56 a.m. ET with Ian Woosnam and John Huh. Craig Stadler will tee-off at 8:40 a.m. ET with Scott Stallings and Martin Kaymer.
Read more
Read an interesting golf article? Tip Your Editor!
Image via Twitter, Golf Central
no comments posted yet.