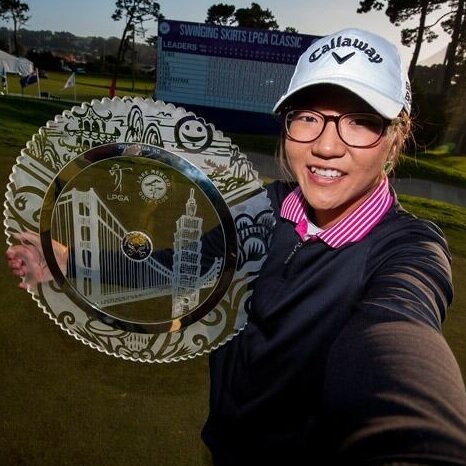 Lydia Ko
turned 17 years old on Thursday, the first day of the first-ever Swinging Skirts LPGA Classic at Lake Merced Golf Club, just outside San Francisco.
And when the tournament was over, Ko had prevailed by just one shot (a birdie putt at 18, in fact) over two-time major champion
Stacy Lewis
. This is her sixth victory in a professional tournament and her third on the LPGA, but her first while playing as a professional, not an amateur.
Ko may be young in age, but she's not young inside the ropes, or in the press tent:
"Yeah, definitely something is going on.

"No, I been getting a lot of support from the Swinging Skirts team, Chairman Wong and Miss Chu. That's why I kind of wanted to play better, to make them happy. They have been supporting me and invited me to their tournament in Taiwan. I won over there and I was so happy to do that and have my first win over there at their tournament. To kind of have my first LPGA win since I turned pro here again, I think is great. I think they're a great group of people, and I think it was a great golf course to win it."
Born in Seoul, South Korea, Ko is now a citizen of New Zealand. And you can be certain that New Zealand's citizens and ex-pats are pretty much all smiling over Ko's latest victory. When Ko wins her first major championship, we expect that all of New Zealand (including the media) makes sure everybody else knows about it.
For her part, Lewis may have finished one shot behind Ko, but the scoliosis survivor has finished in the top ten in
14 out of her last 15 starts
. Sunday represents her third second-place finish this year (Pure Silk Bahamas Classic, JTBC Founders Cup).
Meanwhile, also keep your eyes out for
Jenny Shin
. Born in South Korea and a graduate of Torrance High School in suburban Los Angeles, Shin finished alone in third — get this — four shots ahead of Inbee Park, who won three consecutive majors last year. The 21-year-old Shin has not yet won on the LPGA Tour, but the 2006 USGA Girls' Junior Championship winner appears to be close to breaking through. Last year, she made the cut in 22 of her 27 events, while in 2012, she had her best finish ever at the HSBC Women's Champions.
"It was nerve wracking; I almost shanked my third shot [on 18]. I was actually surprised it went on the green. I was fortunate to have a birdie putt. I just misread it. Again. But I feel great shooting 68 again."
No kidding, Jenny. We are certain that we'll see you in the winner's circle before long.
Read more
Watch an interesting golf video? Tip Your Editor!
Image via Twitter, Lydia Ko
no comments posted yet.